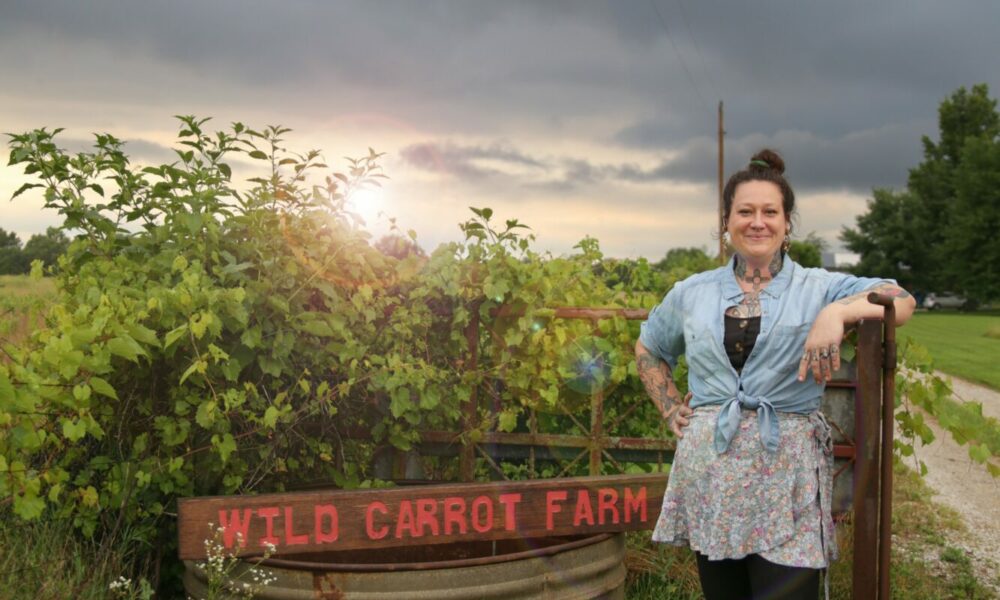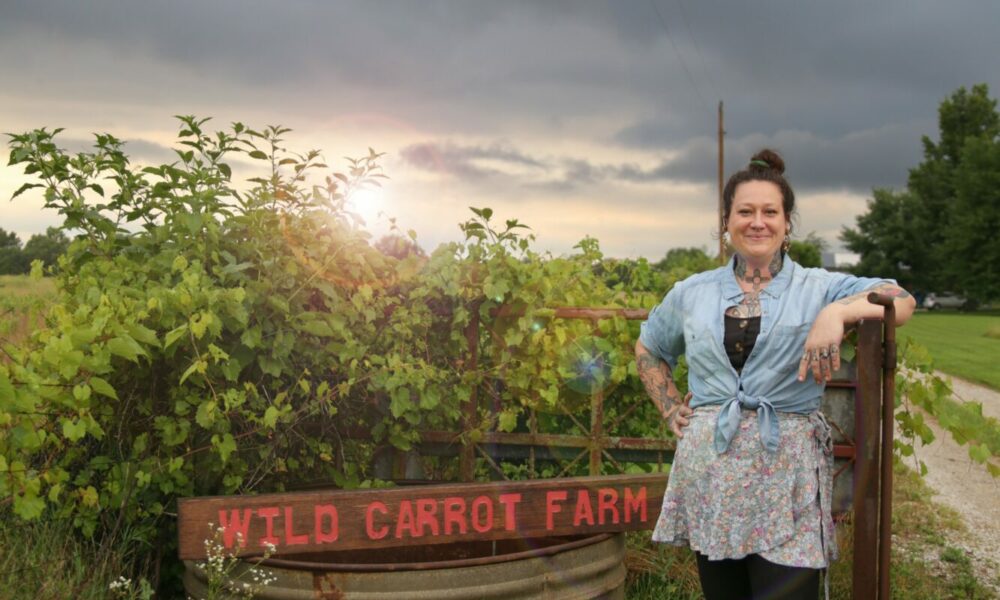 Today we'd like to introduce you to Tonya Snyder.
Hi Tonya, so excited to have you with us today. What can you tell us about your story?
Well, I would say I've always been an artist/creative. And from an early age, my parents caught on and have always supported and encouraged these gifts. I was in dance classes for years, I played instruments, and I took art classes and writing workshops. Pretty much anything I wanted to do or learn, my parents helped make happen.
My dad woodworked and my grandfather was a jewelry maker and stone collector. I tagged along to various craft shows and I soaked in the people watching and chit-chatting. I enjoyed seeing what my dad created and the display he would set up. I even loved the thrill of the sale. I think that later on in life, these interactions and life lessons taught me so much.
There were lots of things I wanted to do and learn! I've always had a deep need/desire to learn and to grow. I am constantly reassessing and reevaluating my skills; and my expectations far exceed my abilities in life; and therefore, drives me!
The only thing that interested me just as much as my art was animals and nature. I grew up rurally and walked creeks and played outside in the sun and caught frogs until the sun slipped below the horizon. My friends had farms with beautiful and expansive fields, with large barns, stocked with farm friends like horses and goats and mini pigs. And behind each of these farms were stories to be told and inspirations to be had.
My upbringing had me writing fictional stories of the old settler life; reading Laura Ingalls Wilder books and getting lost in the details of the prairie life that was depicted; the visions that enveloped my mind of expansive landscapes of farms and fields, dreaming that one day, that would be my future life. All of these daydreams that swirled in my head of the times of our ancestors. The times where we worked with our hands, created everything we needed, and toiled and fought for everything we owned definitely influenced my art, as well as most of my hobbies and all of my interests.
As I went through life with an unquenchable thirst to learn, I acquired plenty of skills and experience. So combine that with my love for learning and a good old fashion challenge, I taught myself how to paint, sew, crochet, sculp, widdle, make jewelry, quilt, paint ceramics, and pretty much anything I could make, I did. But the thought of trying to sell my art scared me. It intimidated me. It's one thing to create something for yourself or to create something because you need an outlet to get through a major life event. It's a whole other thing to expose your art for everyone else's critique. Their opinion, or feedback. It feels extremely intimidating and opens one's self up to vulnerability.
My first official showing was my acrylic on wood paintings at our inner-city house's garage sale. My husband really believed in me and my art, so he encouraged me to try and sell something. I put my paintings out, and then hid in the second-floor window of our rental, peeping out the window, listening for comments, critiques, and rejections. However, I was not met with that. I was surprised with compliments and people's joyful reactions. And, in turn, my art brought sales! This was a memorable first for me and for my artistic career.
Life really progressed from there. As soon as that fire was lit within me of an actual sale; and that seed was planted that maybe I could become a working artist; I put my brushes down and swapped out creating art on canvas for creating human lives and building our family.
I was really inspired and happy to be in that phase of life of a devoted wife and mother. Instead of paintings, I began sewing blankets and clothing for our kids. And turned that creative necessity that keeps me going, the need to create, I used for the family. I created custom baby bonnets and artwork for the nurseries. I sewed custom doll clothing and lavishly through together handmade birthday parties and events for my kids. I honed my sewing skills during this time because sewing really paralleled my life in that season of child-raising.
It wasn't until almost five years ago that Jason (my husband) and I started to yearn for country life again. We both were raised in rural parts of Kansas (for myself and various other areas for Jason) and did what lots of young country folk do… as soon as we were old enough, we moved to the big city. I am really grateful for my time in midtown Kansas City. It was such an experience to be exposed to so many other young artists in that area. All of Kansas City is chalked full of artists. Partly due to the Art Institute, and partly due to Kansas City just being bad a**.
But now that my family was established, and I had been a stay-at-home mom for a while now, I knew that eventually, the kids would be getting bigger, allocating more time for myself, and I wanted to work! I wanted the kids to see their mom build a business. Something I'm good at! I wanted them to be submersed in art and creation. I also wanted them to see what it looked like to put your head down and work hard for something you really want! I wanted to establish a working career for myself in something I wanted to do! I wanted to stay at home with the kids. I wanted to be an artist. And I wanted to farm. And I was going to make it happen. And I knew my family would support me.
I knew that we needed to sell our city home and make my ultimate dream come true- buy a farm to raise our six children on! My husband and I are both entrepreneurs, and I am always devising plans and dreaming big dreams in my head. And I had hatched a new plan and wouldn't stop until it came to fruition. I knew that I would be inspired in the country. My soul needed to be totally submerged into nature.
When we moved onto the farm, I was actually running a very successful customer tumbler company that had been rolling for a couple years. HI knew once we moved to the farm, the inspiration was unsurmountable to tumblers and that my vision was going beyond what I was currently doing.
Everywhere I looked, I was inspired by the farm. From the meadows and the prairies and the hilly yonder views. To the trees and wildflowers and the natural already-established wildlife in the area. We live in the middle of a wildlife conservation and everywhere you look, nature smacks you in the face with all her glorious and wild beauty. Everywhere you look, there is breathtaking beauty. I do not know how one would not be inspired, living out here on our farmstead.
Long before the farm, I was intrigued and obsessed with everything from our ancestor's time of pioneering and homesteading. Anything to do with living off of the wild, natural, untouched land. I was even teaching classes and hosting groups about homesteading, based out of our "city" home. My whole life, I've poured over books on gardening, bee keeping, raising chickens, farming in the city, food-preservation, and everything else you could imagine an old settler doing to survive; I was learning how to do. I longed for the times where we used everything off of the land. And I was already attempting to do that in our city house, years prior.
You could say that when we moved to the farm, all of these dreams and wild ideas and obsessions and inspirations that had been swirling around inside me since I was a young girl, just wanted to explode out of me when we moved here! I couldn't believe we did it! I was ready to go! To let it all flow out! All these ideas I had. A clear vision of how I wanted the farm business ram. I knew exactly what color pallet I'd use on our marketing materials. I had images of the art I'd make. How that would help fund the animals I wanted to have! And I wanted to share it with everyone! I wanted people to learn along with us through social media. I wanted people exposed to not just the highs, but also the lows of the farm. I had crystal clear vision. This is a culmination of my entire life and I was, and currently still am, standing on a precipice of all of my wildest dreams! Everything in my imagination, coming out in all directions, and I couldn't wait to start creating and branding our farm!
As I sat out on the back step of our farm the first night we moved in, I looked back over my whole life and how everything I've ever done was leading up to this very point. From the craft fairs my dad took me to, to prior jobs I had had. All the skills I had acquired thus far-and all the skills I had yet to learn! Everything prior bosses had taught me about running businesses and creating art, was all coming into play. Right here. Right now!
I finally felt like I found my place in life! I was able to be the person I was meant to be. Really, I was able to identify my artistic aesthetic that was there all along; the farm just helped me affirm it. I found my direction. I knew what I wanted to create. And that is a fantastic feeling! And here's what I wanted with my vision: everything that we grew, erything that lived here, everything that came from our land, I wanted to use for my art! I wanted to create art that surrounds the seasons. Different artistic mediums that would only be available based around the resource it came from. I want peole to feel the hard work that goes into each piece. I want people to feel intentionality behind each piece. I want them to feel cared for. That I spent not just hours, but days, pouring my entire soul and nature-inspired vision into their one-of-a-mind piece of functional art. It's hard for me to tell someone how amazing I think they are. But it is fantastic to create something for someone and let them feel me and my love for them in each piece I create. That is a language I do speak fluently.
I started our farm with goats. Dairy goats. Because I knew with goats, I could create the most beautiful products from the milk. Another artform I hold near and dear, that also goes along with my homesteading way of life, is traditional food preservation. I knew I could make artisanal cheeses, drink the milk, craft soaps, mix lotions, and use up all the goats' milk for all the medicinal properties that's found in the milk, for my family, but also as a business, to hopefully fund the growth of the farm, help it grow, and all the while, feeding my need to create and turn something from nothing! Awesome!
I was also so excited to bring in my holistic health science degree and wide knowledge of holistic healthcare and knew that everything we could create would help other people! I wanted to create products that were stripped of all modern day additives and dyes. I wanted to offer people with sensitivities and skin allergies; or people who shared the same vision for clean products, an organic, healthy and very traditional product to use; as well as a product that evokes feelings of something that came right off of a homestead. I wanted our customers to experience a time of pioneers. Explorers. Groundbreakers. Trendsetters. Our ancestors! I wanted to take it back to traditional ways. Let's say, "a forgotten time". I have this fiery desire inside of me to create things that were created in the 1800s on the prairie out of necessity.
I come from a place of gratuity and wonder every single day of my life. I'm literally living dreams as I write this. My soul is fed daily from the inspiration I draw from the land and views that surround me. I get to move in the same seasonal rhythm of nature, and with that, I have a whole new level of inspiration.
It wasn't until recently that from my tumbler business, I started to make molds and create castings with the leftover resin (my now medium of choice) from my tumblers. I was brainstorming ways to maximize my profit margins and utilize everything I had, and started with casting handmade earrings with my over-poured/leftover resin. Right when I made my first casting, I knew that this was a new avenue I wanted to explore more of. And that's what happens as an artist. Sometimes you don't even mean to change directions, but sometimes you're called to move, and you move. Remaining fluid as an artist, really opens a lot of doors of exploration in your lifetime of creation.
One day, I had a friend mention that since I was making all these beautiful goat milk soaps, that I should start creating soap dishes with my resin, to go along with the whole store's vibe. And she was totally right! That was absolutely inspiring! I started casting all of these beautiful functional pieces of art with my already established resin skills, but now combining more aspects of nature! I would take all of my inspirations that surrounded me and from our farmstead; everything I was most passionate about and the interests in my life- nature, wildflowers, and gemstones and minerals, and make a farm market line out of functional art pieces!
All the while, I was still looking for ways to utilize our land more and more in my art and castings. Everything my husband and I do on our land, or any animal we keep, we want it to give back to us in some sort of way. We want to use everything we can, and try to not be wasteful. One day, I was walking in the fields and saw beautiful wildflowers growing and thinking what a shame it was that all these wildflowers disappear after the spring and summer seasons. So I started to harvest our meadow's wildflowers and taught myself to dry the flowers and I started putting them in the packaging of our farm products for our online shop shipments. Another way to show our customers we appreciate the farm support! This tied in our already-designed wildflower logo and brought additional intentionality in my shipped art pieces for my customers. This idea was all destined to be. I just knew it.
I've always adored wildflowers and the art of preserving them and I wanted to learn more! It occurred to me that I should collect the specimens from the fields, dry and press them, and then place them into the art castings I was already doing! This would give our farm-created art pieces an even more personal touch, as our clients could take home flowers from our very own fields, and have a bit of the MIdwestern prairie with them, forever, in their own homes. How charming! I also gravitated to this idea because anything science related or nature related, I'm all about!
And that is where I am now! As an artist, sometimes we find a place we want to stay in. A place that makes us so happy! And we are lucky enough to find our niche, and have enough clientele and support, that allows us to stay in that warm, happy little place, creating what you really love and what you really want to do! I can't stop making these beautiful functional pieces or art that can only be sourced from our farm! Not only do I make the molds myself and the castings are entirely done by hand. I also gather and harvest the flowers from our meadows by hand, press them with care, and then set them into art for everyone to enjoy!
There's something so gratifying about growing and harvesting something ourselves, that makes me feel so human and in touch with nature. It makes me feel alive and connected. I feel feral. And I welcome it. I love giving someone a piece of something I've created that has been created entirely off our land, from our farm, with my hands, and a whole lot of hard work and love. All the hard work and time and intentionality that goes into each piece is paid off right then, when the look of wonder and joy crosesses my client's faces when they experience my art. It is the most beautiful and gratifying feeling ever!
I have so many ideas spinning around in my head of where I want our farm to go from here. I have clear visions. Clear dreams. Clear goals. I want to create and teach about everything that is traditional and old-fashioned. Of things long forgotten. I want people to find that supporting small businesses and farmers are the cool and necessary thing to do. I want people to choose to go to a farmers market, rather than a big box store, on a Saturday morning. I want people to be able to touch, feel, and experience the farm life and what it takes to be a farmer.
Recently my husband looked at me and said, "Well, you officially sold over a thousand pieces of art and you also now have your farm! I would say that you're officially an artisan farmer." Wow. Thank you Jesus. I never would have dreamt, in a million years, that everything I daydreamt of my entire life, would actually come to fruition. I have been through so much, from trauma and abuse, to addiction, to chronic illness, and yet, I have kept fighting and persevering, all for this very moment in my life. I have figured out how to become a working artist!
I'm sure you wouldn't say it's been obstacle free, but so far would you say the journey have been a fairly smooth road?
I have faced so many challenges along my life path to get to where I am today. My art parallels my life directly. So, any moment of challenge in my personal life, is reflected in my artistic life. Sometimes challenges can change the direction of my artistic aesthetic all together. I will say, there are moments of my life that have been so low, such as dealing with my debilitating chronic illnesses, that my art is what sees me through. It feels so good to fall deeply into my art when I am not feeling my best and can not leave the house. When I'm making art, that creates space in my mind for prayer and meditation. As I work with my hands and focus on the task at hand, I am in a state of prayer and ultimate relaxation.
It's also good to have people in your life to bounce ideas off of. And I am so blessed to have people in my life to tell me, "That's an amazing idea, run with it Tonya!" or, it's as equally as good to have people in your life say, "Woah, Tonya, your head is way too far in the clouds with this idea right now. We need you to come back down."
Something else that working artists probably don't talk about as much as they should, is the customer service side of this kind of work. Yes, it's fun to create. It's a necessity. It helps support my family. It's gratifying. But there's another side to that. And it's handling cus
Can you tell our readers more about what you do and what you think sets you apart from others?
I definitely would say I specialize in everything revolving around the ways of our forgotten ancestors. From handcrafted goat milk soaps and lotions, to hand-dipped beeswax candles, to various functional art pieces.
I love our family farmstead and find the most gratification in using everything from our farm, in my art. Nothing makes me feel more in touch with nature, and alive and free, like having my hands at work on our farm. I am constantly inspired by what I see around me, and look at everything this world has to offer, with a sense of joy and wonder. I also have amazing community and friends around me, and I am always gleaning wisdom and inspiration off of what they say, or what I hear. Words linger in my head for much longer than the time it takes someone to say it. I'll be chatting with a friend, and they'll say something so moving and touching and inspirational to me, even though they may have only said it in passing, that I'll meditate on it and think on those words, and from that, inspiration will come. I will take those words from a friend, and turn it into a beautiful piece of tangible art.
As a consumer, I often find myself buying from the place of "will I use it?" And from keeping the perspective of what the customer wants, I create from a place of "you will use it!" art. Or, "functional art". I want people to love my work, but I also want people to be able to use it! To feel it. To not worry about breaking it. So from that, I have become known for my functional epoxy resin pieces that serve purposes in the every day home. But these pieces are not only functional, they are adorned with magical details and enchanted specimens from our land, that mainly being flowers.
I want people to know and feel that the flowers in their piece of functional art are not just ordered from Amazon. But that I went out to our own farm meadows, toiled and worked the land, harvested the flowers, cut and sorted them myself, hand-pressed and preserved them, and then carefully, and skillfully, set them into the hand-molded charcuterie tray that will soon go from our farm, to their home.
These whimsical art pieces are soap dishes and coasters. Serving platters and charcuterie boards. Cutting boards and sun catchers. I adorn these pieces with all the beautiful bits that make me happy and evoke feelings of whimsy and expand the imagination; and then set these treasures into crystal clear epoxy. I use a lot of crushed glass and gemstones to line out frames on various pieces. I then use hand-gathered flowers and butterflies to set nature-inspired scenes into the various home decor items I create. If I'm not arranging flowers into my pieces from flowers from our fields, then I'm doing it with special occasion florals, such as flowers from weddings or funerals.
If I'm not using my floral preservation skills to create my art, then I'm creating pieces to replicate geode and agate slices. Hand blending colors and hand-pouring veins and bursts and replicating cracks and fissures and other various geological effects. Different from my floral pieces, but still nature inspired. All of my artwork does share a common theme. Something I would call, "Boho Prairie". We'll say my art is a combination of all the farm vibes and all the hippy vibes combined into one new, clearer than ever, vision. I guess if you came to our farm and stayed in our farm house, you'd quickly see that our whole lifestyle could be labeled, "Boho Prairie". A little Jerry Garcia here. A little Laura Engel Wilder there.
What sets me apart, is I am not afraid to be myself, and it comes through in my art. I really love myself and am confident in who I am. Even though my style might leave some people scratching their head, others totally get me and we vibe right along together. I am a hippy and a farmer and a Christian who loves gangster rap. I'm also a mom and wife and business owner. And I like what I like. I make what I feel like I want to make and what makes me feel good. And then I pray there's others that like it to. And there seems to be!
What sort of changes are you expecting over the next 5-10 years?
I am always thinking of the newest trends. Where my art could go from here. It is important to stay current and trendy and desirable, while still honoring your art and what you want to create. It's important to always be thinking of the next new thing. I like to believe I'm a trendsetter. And I like to be at the crest of the wave. At the top. With that, however, also comes challenges of managing that sort of pressure to keep producing and to keep being the best.
It's important to stay ahead of the game. To constantly be thinking of what seperates your art from the rest. I'm constantly thinking about what I can do that's not being done already. I like to think my art is taking something that is old, outdated, traditional, and making it into new and exciting!
I want to make homesteading cool! I want to make traditional values desired. I want to make nature and living off of the land appreciated and recognized! I want people to stop and pause, and to think about how much work goes into that piece of art that they're holding. I do that by being a conundrum, myself, and being who I was created to be; me! Yes, I love Snoop Dogg and tattoos. But I also love canning vegetables and making cheeses. And instead of feeling uncomfortable about liking this juxtaposition of old and new; I've learned to embrace it. And I am now ok with people not understanding me. It's ok to be different! I've dealt my whole life with people not understanding me, or not being able to fit me inside of their box. And that's fantastic! I don't want to be put in a box, and the more people make me feel that way, the more confusing I want to be! It is so freeing to be yourself. I am ok with people not understanding me. I actually love to keep people guessing! That I "look" one way, and act another. Actually, as I've matured in life, I've become more confident in who I am and have come to find out that what IS important is to be yourself.
We all have dreams we hold close. And it comes down to how hard you are willing to work to make your life the way YOU want. And once I realized that, and broke free of the chains that were holding me back from my turest potential, there is nothing stopping me. If you haven't been living to your fullest potential, or have dreams youre still sitting on, I encourage you to start making the steps to change! You can achieve anything you want to do in life! You must dig down and find your drive, ambition, tenacity, resiliance, and ingenutiey! We all possess those traits; dig down and find them! Conjure them into existence and chase those dreams, friend!
Pricing:
Soap Dishes $10-$12
Goat Milk Lotions $8-$16
Goat Milk Soap $3
Custom Wedding Floral Preservation $150+
Coasters $5+
Contact Info: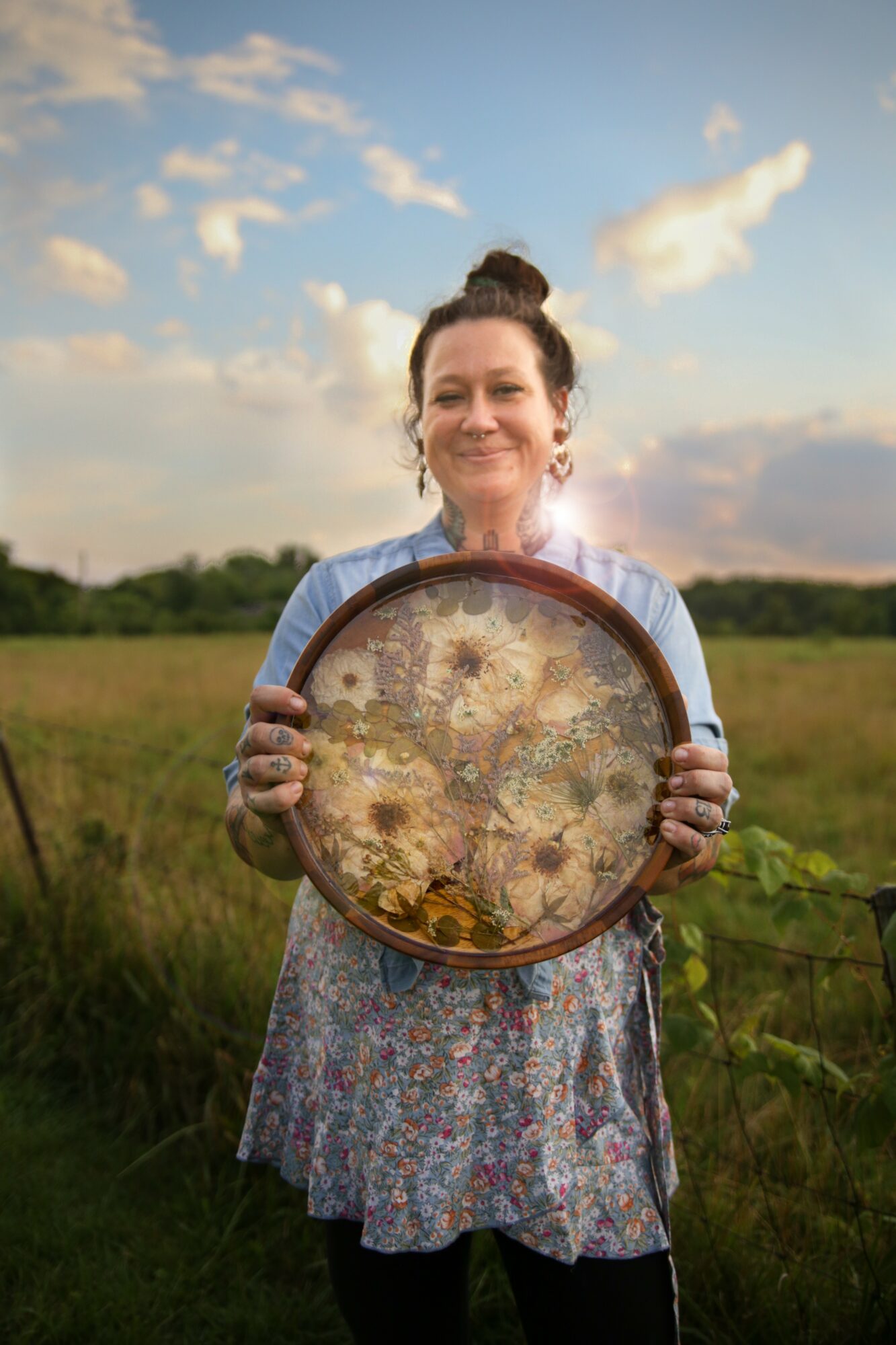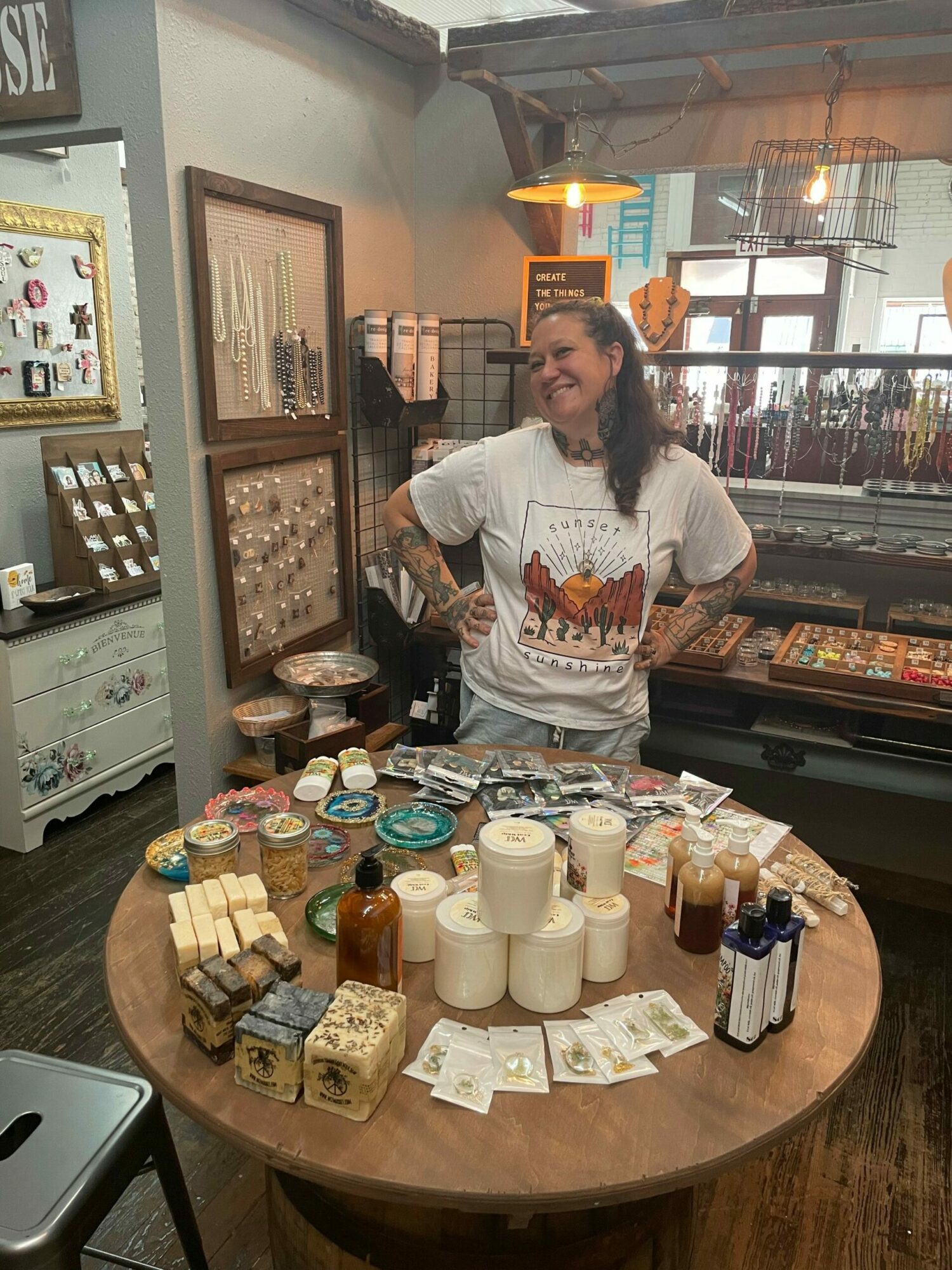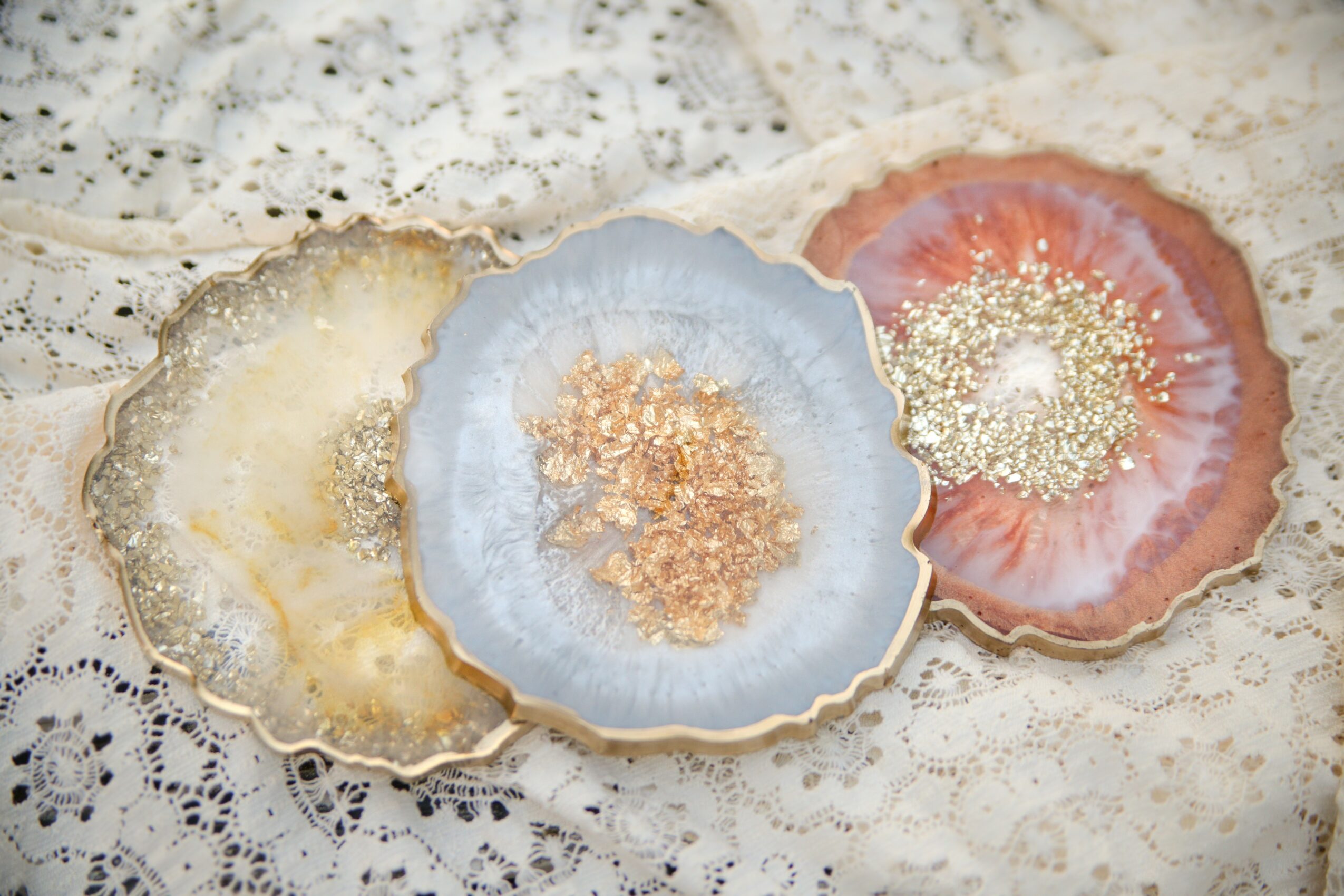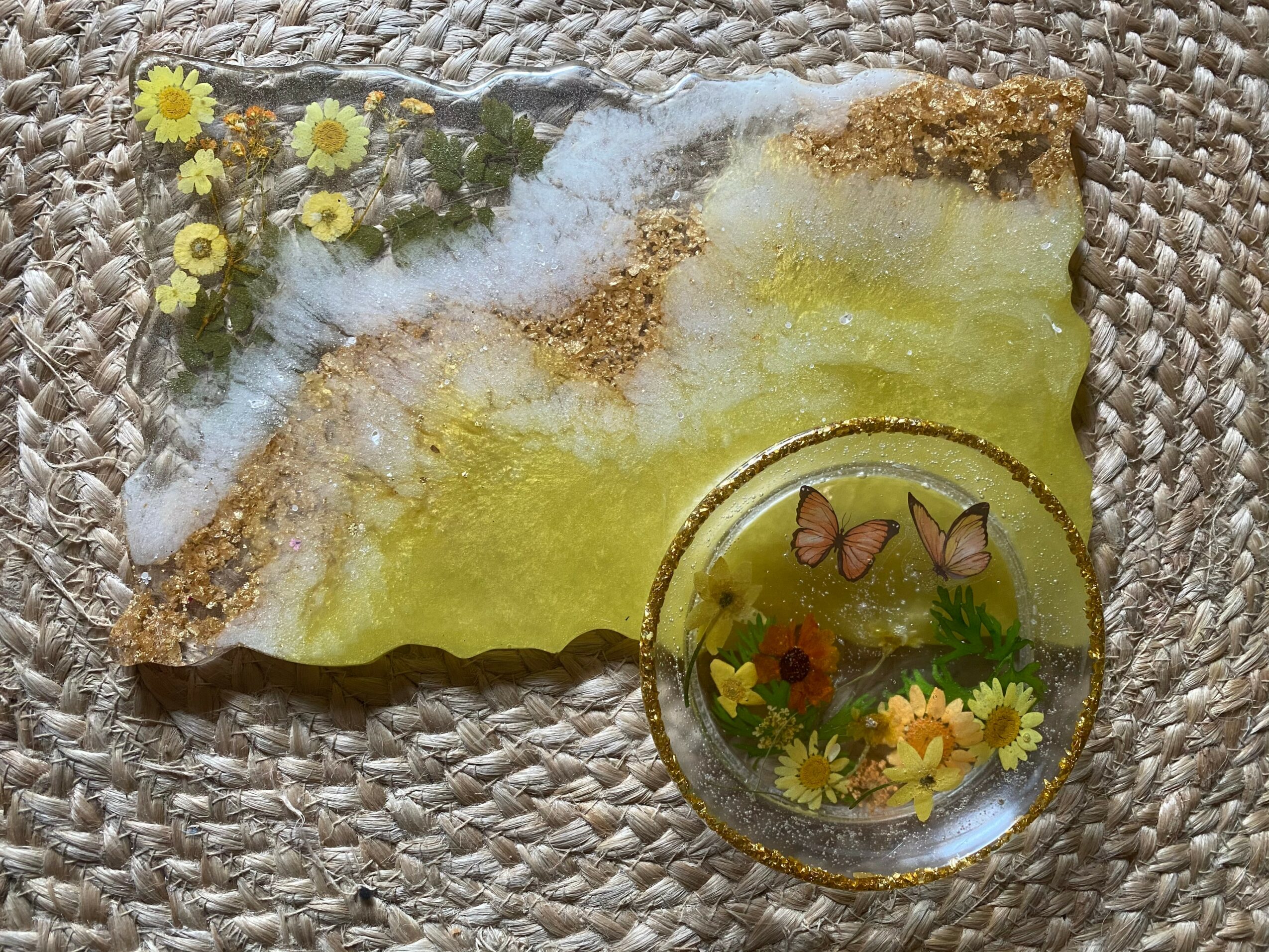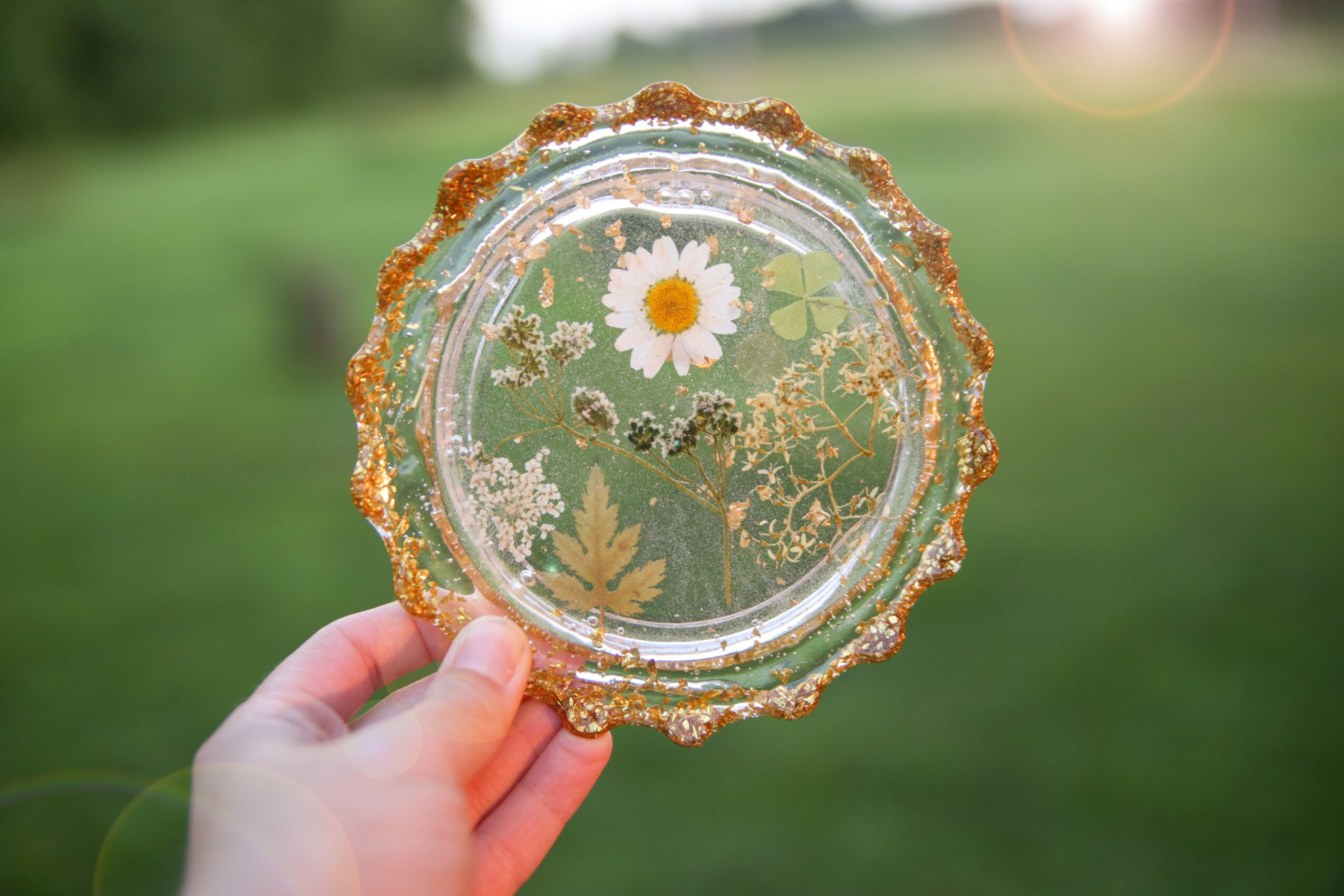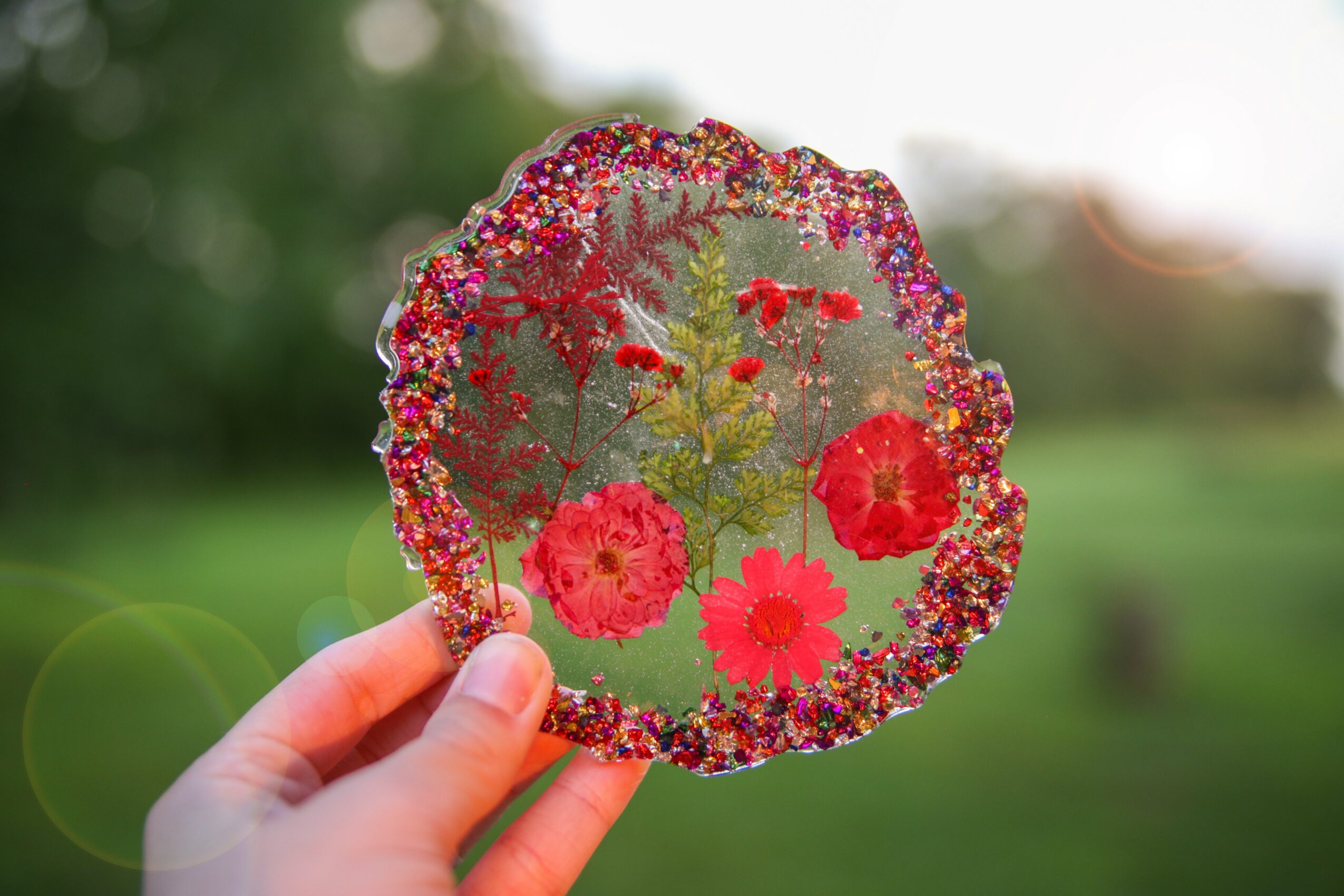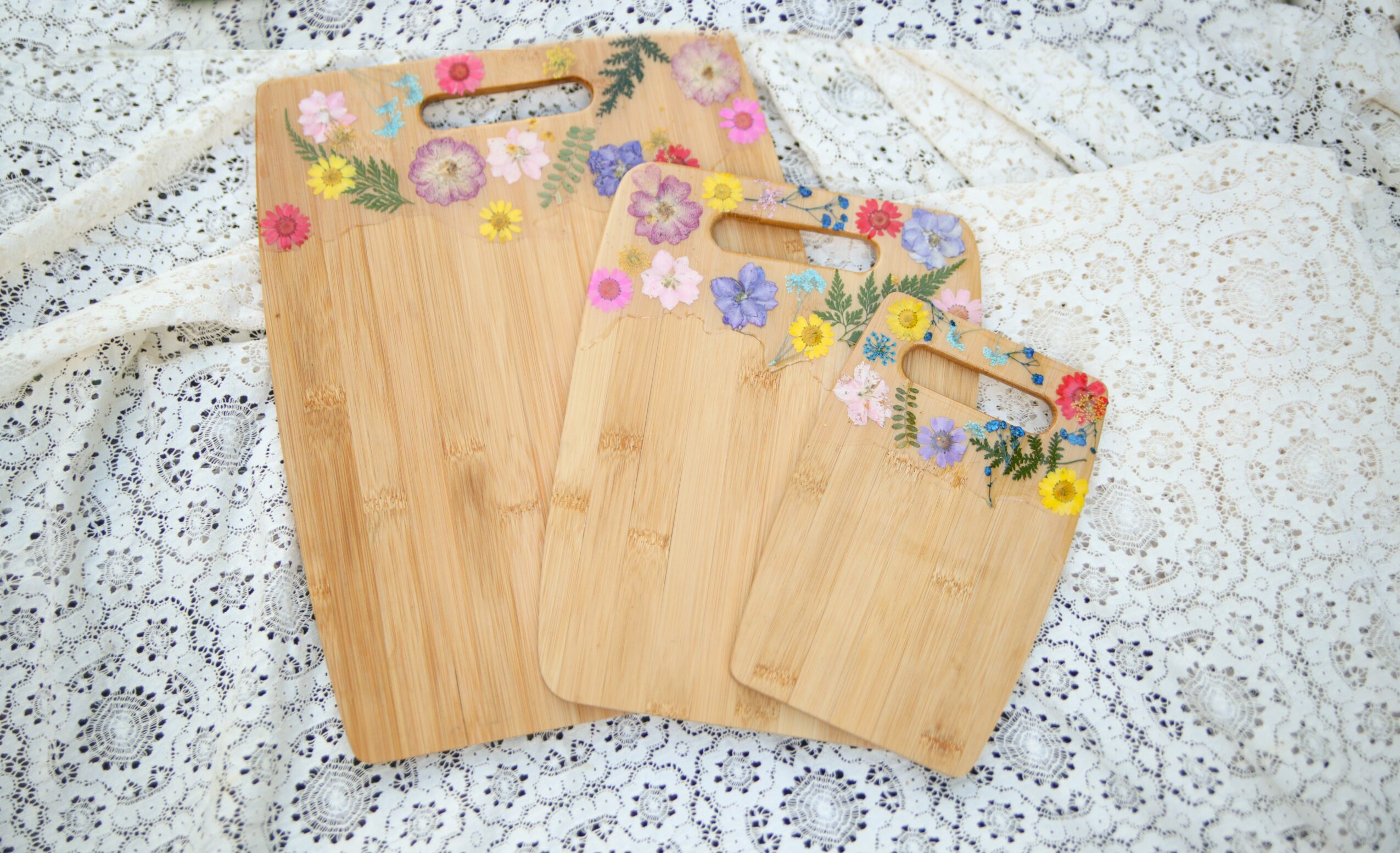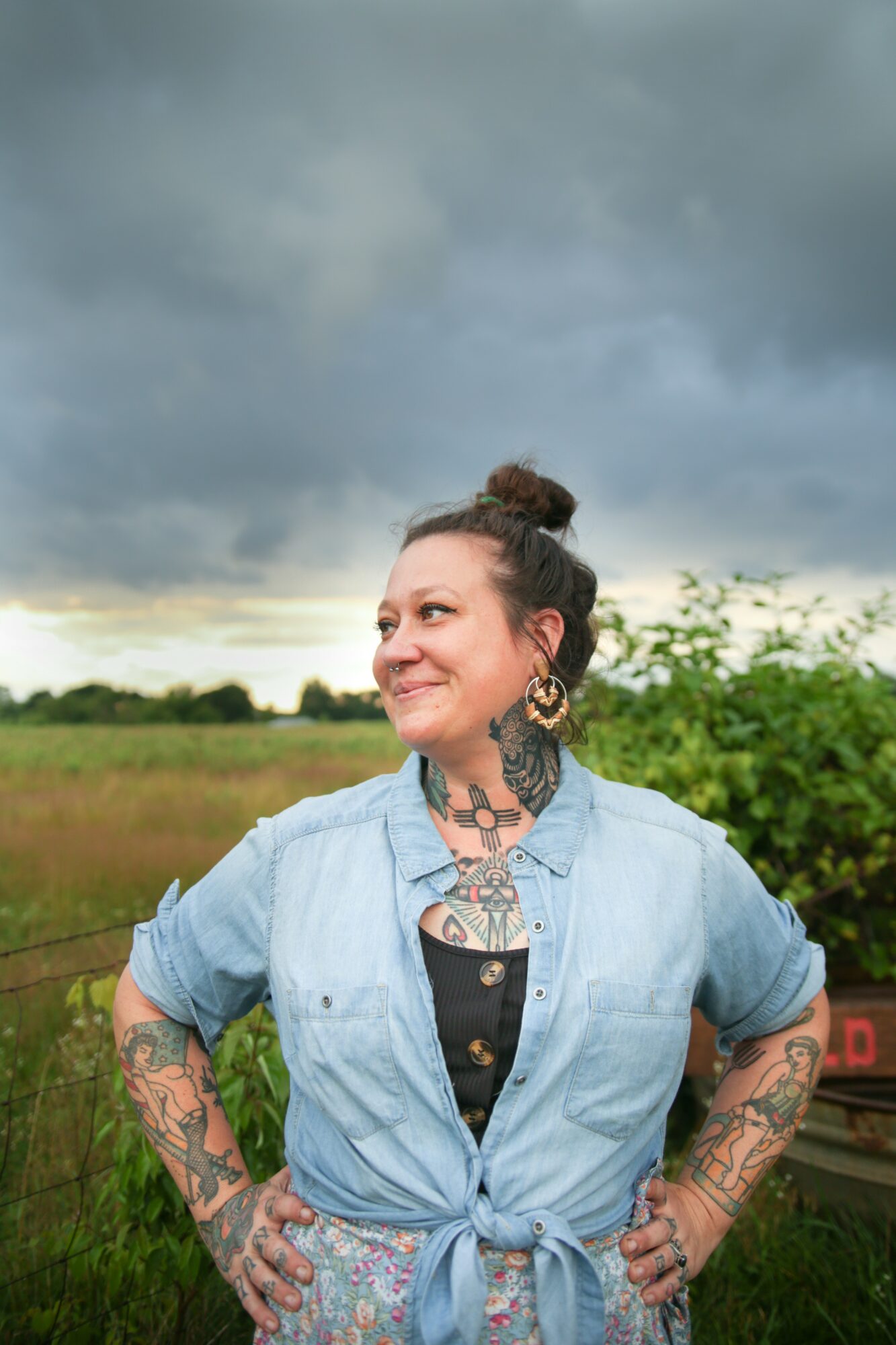 Image Credits
Denise Elam
Suggest a Story:
 VoyageKC is built on recommendations from the community; it's how we uncover hidden gems, so if you or someone you know deserves recognition please let us know 
here.