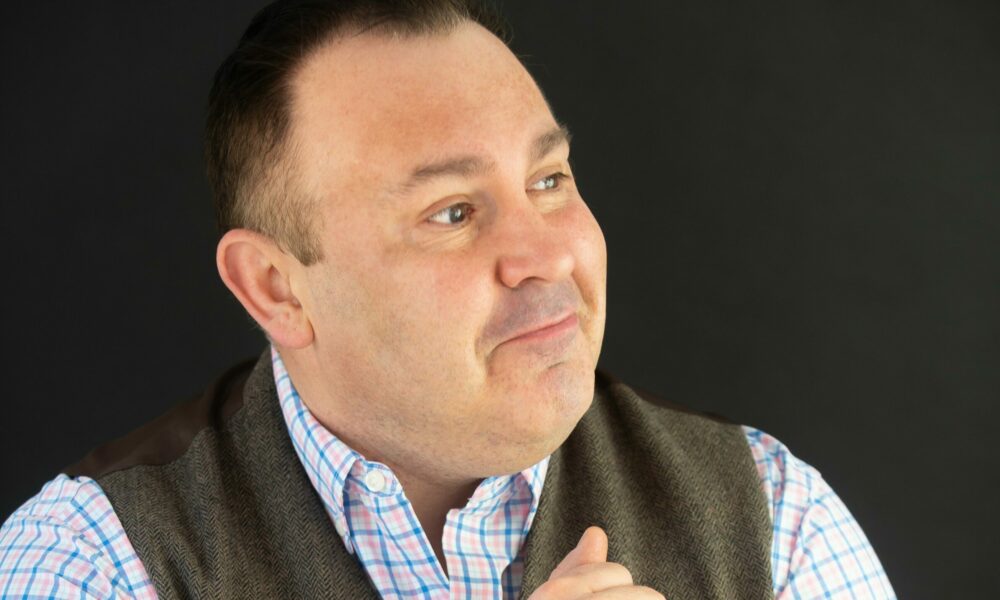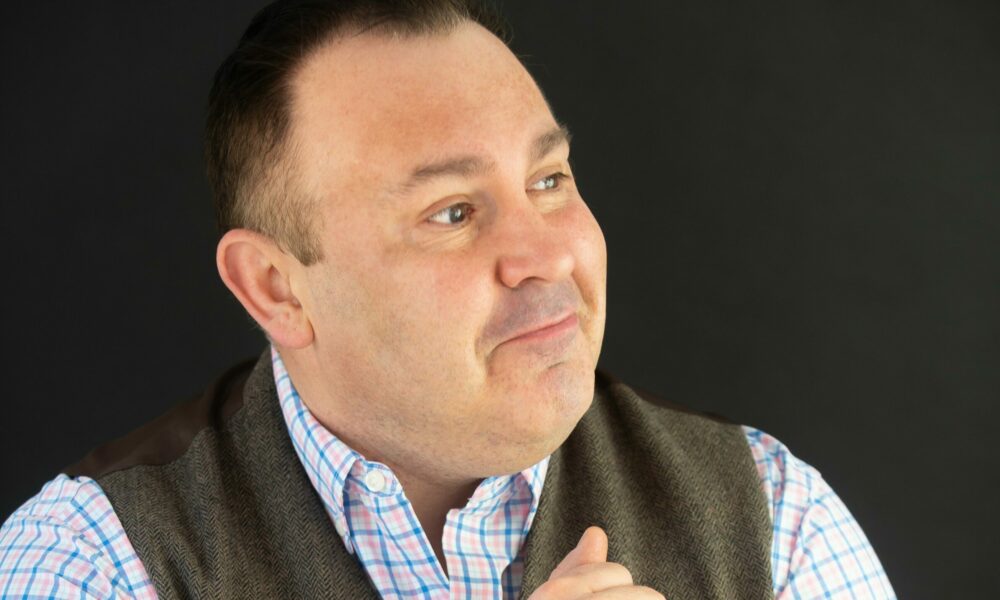 Today we'd like to introduce you to Jamie Campbell.
Hi Jamie, can you start by introducing yourself? We'd love to learn more about how you got to where you are today?
I am a multidisciplinary artist. I work mostly in the space of comedy – as a stand-up comedian, storyteller, and improviser. I am also a screenwriter, actor, and arts educator. That means I wear a lot of hats. I began my comedy journey in Chicago. It's a city that is a legendary training ground for comedy, and I am so fortunate to have been able to learn and grow in a community that allows you to take risks with your art. I was in graduate school in Oklahoma when I was accepted to the Second City Comedy Studies program, which is what took me to Chicago. It is a full-time training program where I would walk the same halls as many of my comedy heroes. I could barely afford to get there, but I packed my bags, moved to the Windy City, and never looked back. I didn't even return to finish graduate school – comedy had a hold on me and still hasn't let go.
Comedy could exist everywhere, and these shows were pushing the boundaries. I spent eight years in Chicago and found the most exciting comedy wasn't being done in the city's legendary institutions. It was being done in bars and found spaces and attics that people turned into performance spaces.
I split most of my time between those venues and the ComedySportz Theatre, a space that had become my unlikely home. The staff at ComedySportz gave me room to play and grow on stage and even let me program my shows – some of which were very successful and others total flops. They gave me a safe place to take risks, and I probably learned the most about comedy in that building. It was the first time I felt like I had peers and mentors who truly believed in me, giving me artistic confidence I had never felt before.
I left Chicago and spent a year in Los Angeles, spending six of those months in traffic. I never felt a true connection to L. A. It was good for me to experience that city, but I wanted a place that felt like home. I wanted a place where art mattered more than content, where who you are counted more than your list of credits. I wanted genuine conversations without agenda. I wanted a place that had the charm of a small town and a large city's vibrant arts scene. I wanted a place where I could thrive and relax simultaneously. I found that in Kansas City. I moved here in 2016, and the art community embraced me like one of their own. It immediately felt like home. It's also where I met my wife. In many ways, I feel like I was drawn to Kansas City so I could meet her.
We all face challenges, but looking back, would you describe it as a relatively smooth road?
Of course, the road has been bumpy. No destination worth reaching is easy to get to. I think this pandemic and the lockdown ensuing was a breakthrough moment for me. It changed my artistic approach and focus. When the world shut down and we were stuck at home for a year, I had to evaluate seriously. As a touring stand-up comedian, all of my work dried up. My acting work was on hold. I canceled the classes I was teaching. I was forced to take a break for the first time in my professional career and during that break. I had time to sit and evaluate what I enjoyed about my career and where I had been going through the motions. Over the past fifteen years, I have changed as a person, and it was time my art changed to reflect that. I was no longer filled with cynicism, angst, and desperation. I had dealt with my mental health issues. I had found love. I had found stability. I was, dare I say it, happy?! But, my art wasn't happy. My work needed a reimagining, and I took that time during lockdown to decide what I wanted. And now, my art is focused on joy. It doesn't mean that I run from darkness. I don't shy away from hard conversations. But, I try to find a way to shine light into them rather than wallow in despair. Now, all of my work. From my stand-up to my storytelling, teaching philosophy and screenwriting are focused on the quest for joy. I was worried my art would diminish if I lost my rage, but the truth is that I feel freer than ever. I'm creating on my terms. So, those bumps are there, sure. But I'm still on the road.
Thanks – so what else should our readers know about your work and what you're currently focused on?
So, as I mentioned before, I work as a stand-up comedian. I am also a producer of experimental live comedy and performance art shows. Additionally, I am an actor, improviser, educator, storyteller, and screenwriter. I actively do all of those things, and I know that sounds like a lot. But, it all connects in a way that makes sense to me.
As humans, I believe all of us in real life and the characters we read about in books, hear about in stories, and see in movies – are on a quest for joy. We seek out the things that will make us feel happy, complete, fulfilled, and connected. Through all of these art forms, that quest for joy is what I want to explore. I'm interested in creating a connection with my audience through my comedy. I want to operate from a place of joy so that people walk out of one of my performances feeling like they had a collective experience that uplifted them. My new solo show, Big Dad Energy, debuts this July at the KC Fringe Festival, and I hope it is infused with the joy that will let audiences go home feeling hopeful. Through the live experimental shows I produce, I focus on uplifting other artists and making something special for the audience. I create unique, one-of-a-kind, themed performances that push artists out of their comfort zone in an environment where it's safe to take a risk – I want them to come away from one of my shows feeling more capable of their creative abilities than before. I also want these weird, one-of-a-kind shows to exist for a single performance so that audience members know they experienced something exceptional that is theirs and theirs alone.
As a screenwriter, I like to examine joy differently. My writing often goes to darker places than my comedy. I am interested in exploring how far humans can go to experience joy. What will they do to each other to get what they want? Is there a point of no return where joy drifts out of reach? My goal with these stories is to make people who have dwelt in darkness feel less alone. It's also a way to explore the kind of monsters I hope never to become.
As an actor, I get to step into someone else's shoes to experience humanity from a different perspective – to briefly live as someone whose quest for joy is on a different path than mine. I get to view life from someone else's point of view, which helps me better understand my fellow humans. It also helps me to understand myself better.
As an arts educator, I teach comedy writing, improv, stand-up, and storytelling. In my educational work, I want my students to know that someone else believes in them—no matter where they are on their journey. I've had teachers who believed in breaking me down, which almost made me walk away from creating. Art is therapy. Art is healing. Art is not a sport.
I believe the greatest gift we can give our students is a safe space to explore. I don't believe in artistic failure – I believe we either succeed or we survive. Either way, we grow. Believing in someone is powerful and maybe the thing that allows a person to believe in themselves. I'm also trying to learn more from others – especially those different from me. I want to know what brings them joy and how I can help them on their quest for happiness – not just as an artist but as a human being because my perspective is not the only one worth knowing about. I took one of those Ancestry DNA tests. It turns out I am 100% part of the problem. So, I'm trying to listen more and bring compassion for what I'm hearing and learning into my work.
What do you like best about our city? What do you like least?
I love it so much about Kansas City. I love how passionate KC residents are about their homes. I love how welcoming and kind the community is. I love the food, the sports, the home-grown arts – from visual to performance, and how this city shows up for each other. I think the thing I like least about the city is how the Missouri side maintains its roads. Come on, guys. I go from smooth sailing to a gauntlet of potholes in an instant. I don't need a sign that says, "Welcome to Missouri." The roads do it for me.
Contact Info: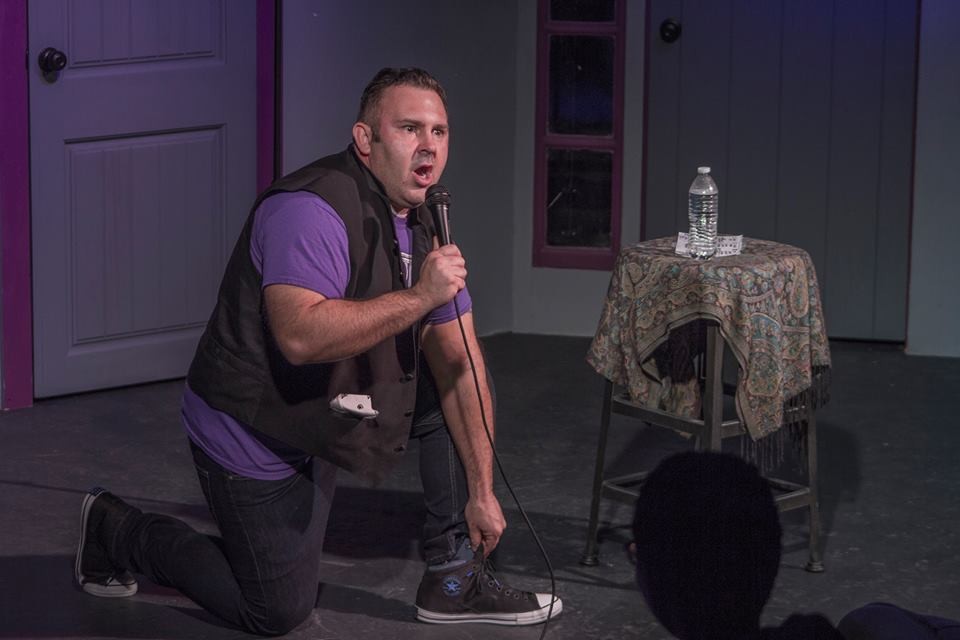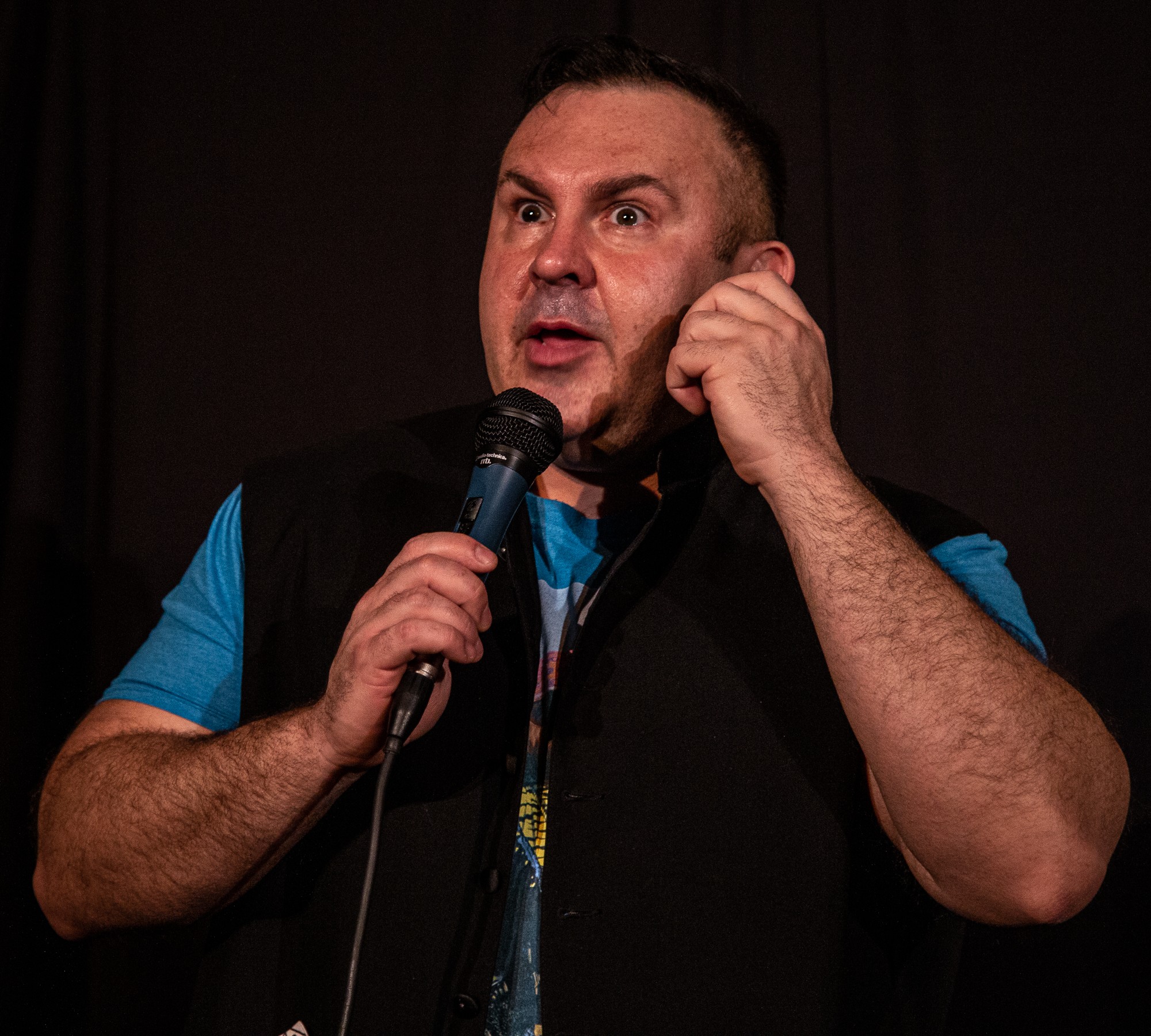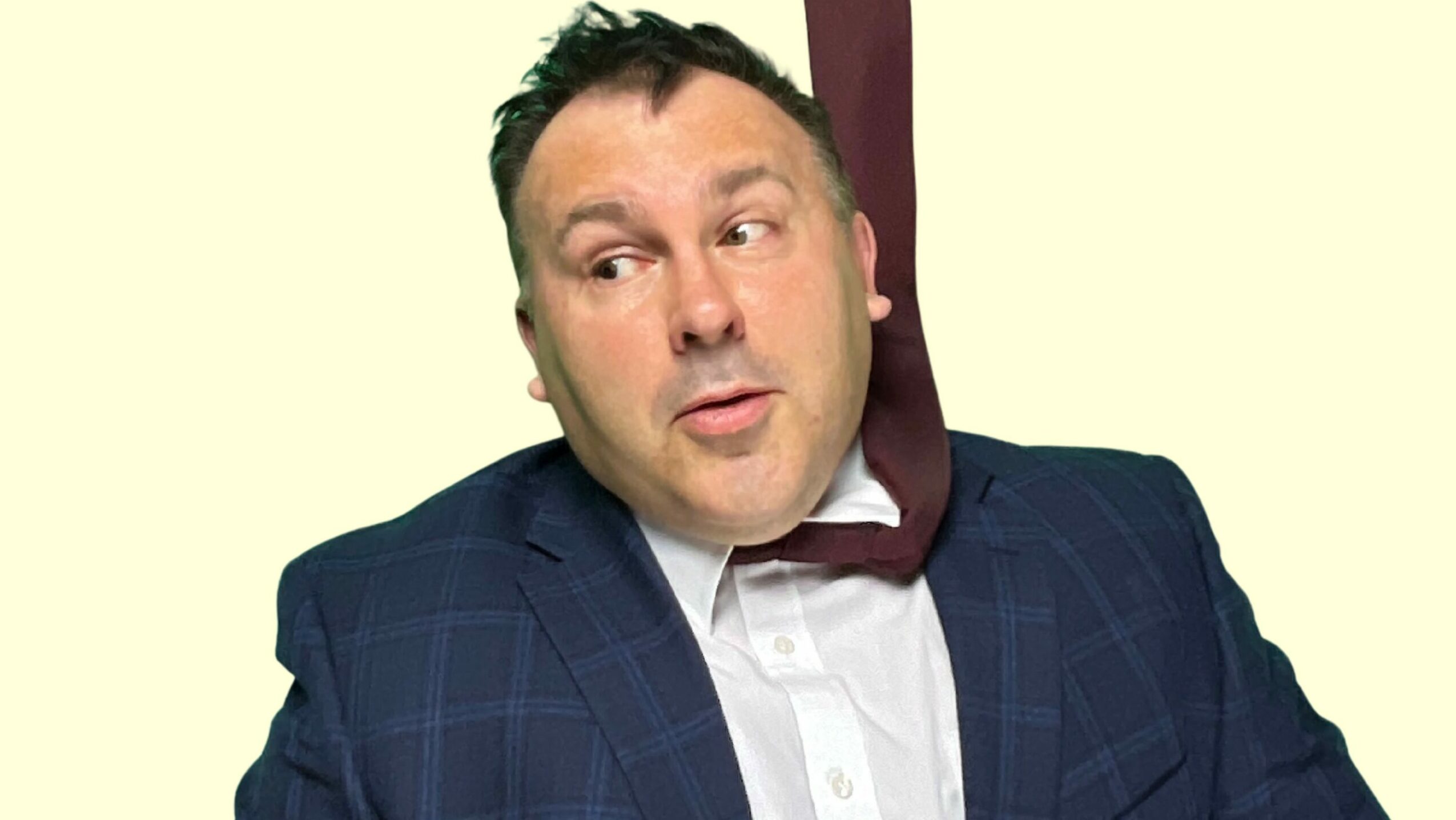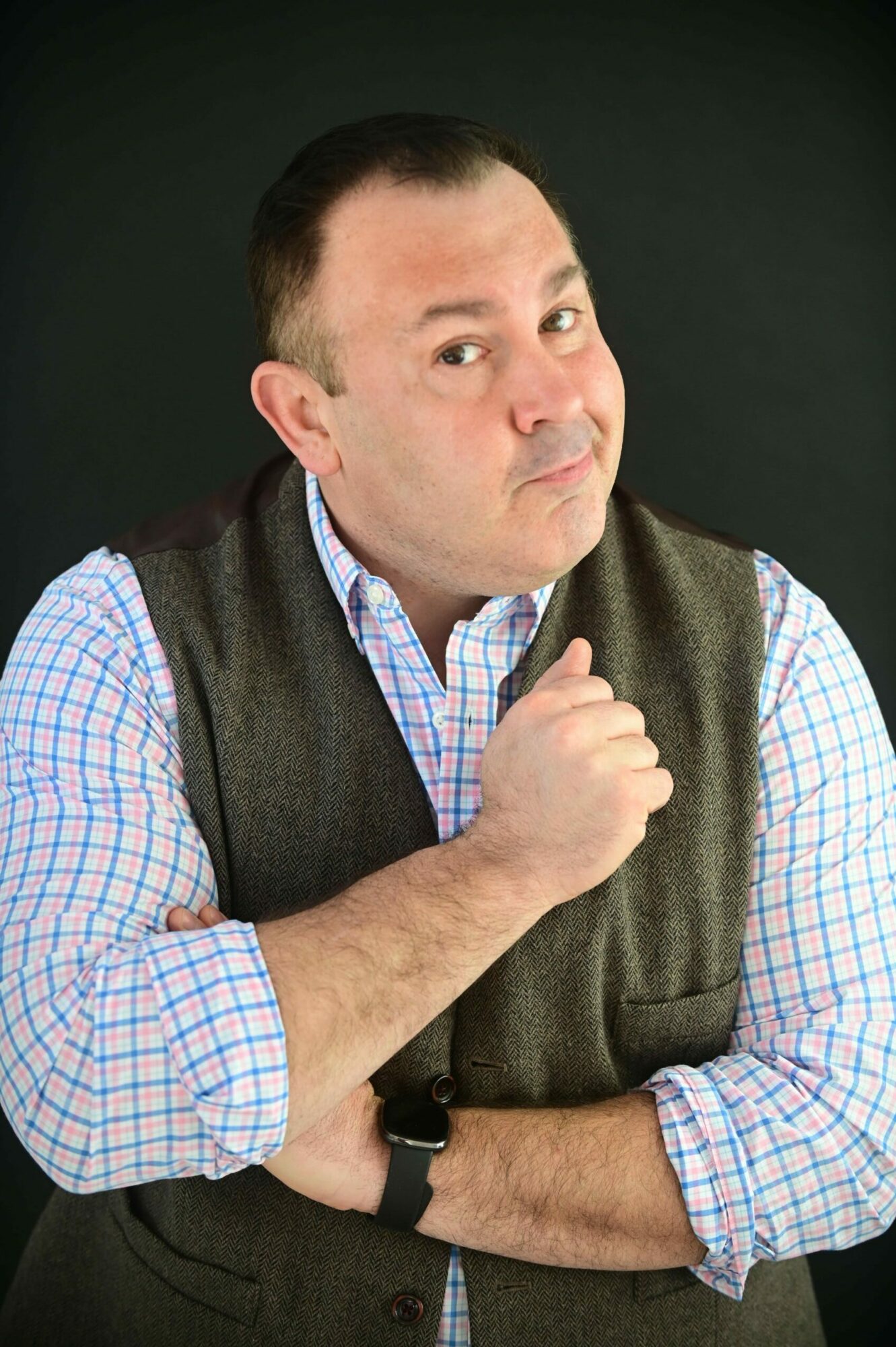 Image Credits
1 – Manon Halliburton, 2 – Andrew Hempfling, 3 – Adrienne Allin, 4 – Alex Eckard, 5 – Cincinnati Fringe Festival
Suggest a Story:
 VoyageKC is built on recommendations from the community; it's how we uncover hidden gems, so if you or someone you know deserves recognition please let us know 
here.