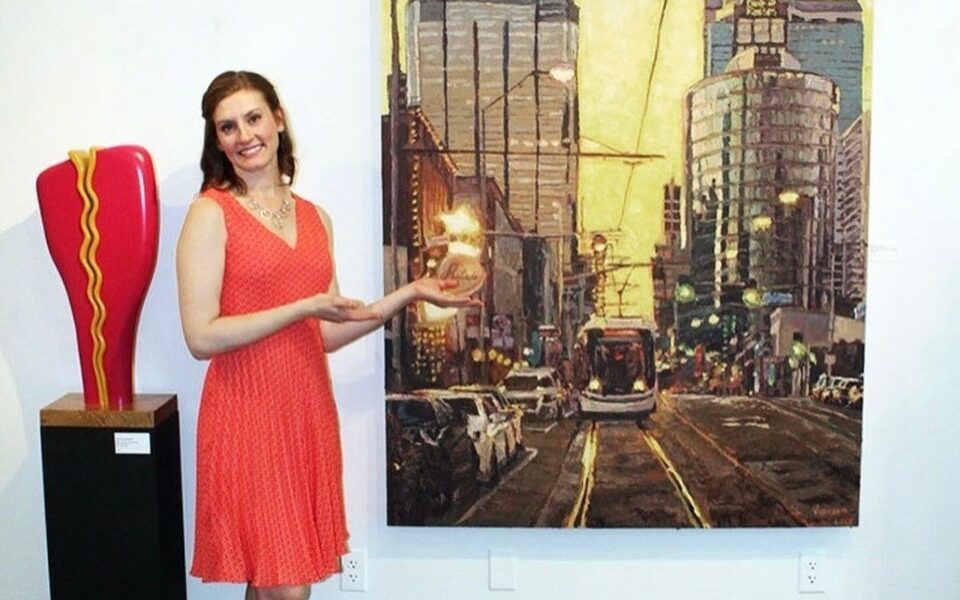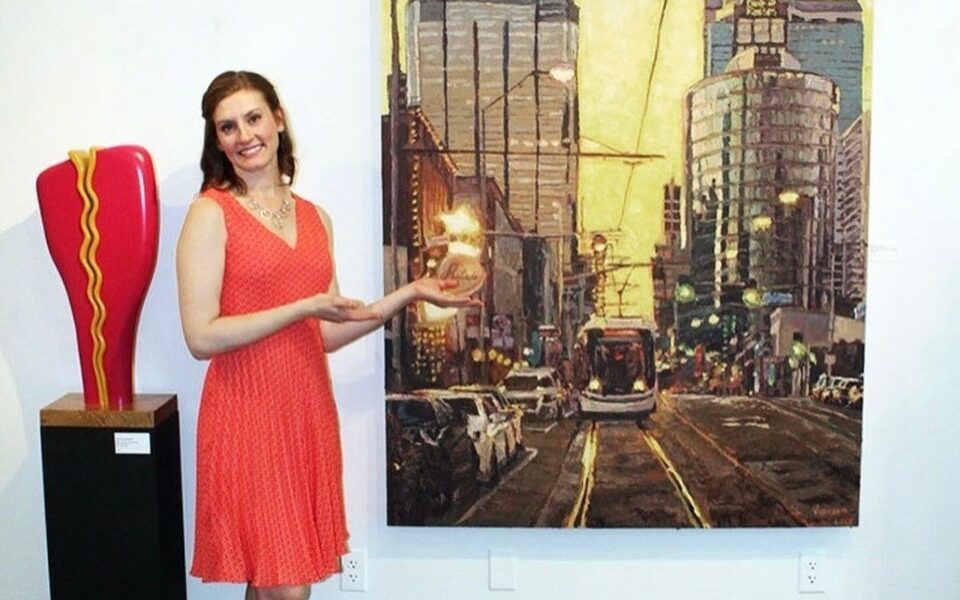 Today we'd like to introduce you to Vanessa Lacy.
Hi Vanessa, thanks for joining us today. We'd love for you to start by introducing yourself.
Creating things is a part of my identity. I'm always trying to create a life that allows me to paint as happily as I can and to surround myself with people who love art as much as I do. If I define success in those terms, I feel very successful to be a part of the Kansas City art community which has always shown itself to be generous and kind and because I spend most of my best days these days painting.
In childhood, I drew mostly portraits and nature scenes, in my tumultuous teens and 20's, I sometimes used art as a way to vent negative energy out by painting things that I saw were bad and wrong in the world. But over time I realized I had a very important choice to make in choosing my subject matter because it is what I would be spending a lot of time and energy focused on and it was an energy that I wanted to be proud to share with the world. So ultimately I chose to create artwork about my city that would be uplifting and celebratory. Especially after having so many large paintings of mine placed into a hospital, I pray that my art would be healing, warm, and uplifting to the people who ultimately buy it, live with it, and work around it.
While attending college at Missouri State University in Springfield I discovered my love for Plein air painting and was also an artist for Bass Pro Shops which had its fabrication shop in the neighboring town of Nixa, Missouri. In 2007 after completing college with a dual major of BFA in Drawing and BSED in Art Education from MSU, I moved to Kansas City to pursue painting and teaching.
In 2015, I resigned from teaching art after 9 years with the Belton School District to pursue painting full time. I received my biggest commission in 2016 when KU Med hospital hired me to paint eleven large paintings for their permanent collection. Making art in the studio full time felt a little lonely compared to teaching when I was surrounded by loving students and teachers. So, as part of my community building effort in 2017, I opened Vanessa Lacy Gallery; in part to sell my own artwork and also as a way to provide an art space which allowed me to contribute to and interact more with other artists and art lovers in the community.
While still teaching art in Belton, I found my first Kansas City art tribe at the Arts Incubator where a handful of artists were given art studios, business lessons, mentorship, and exhibition opportunities and in 2013 I was a part of Artist INC, another great program for Kansas City artists where I met many inspiring and talented artists. Some of my best friends came from these experiences. When my time at the Arts Incubator had passed around 2009, I found a studio space in the beautiful, historic KC Livestock Exchange Building. I have been one of its many artist residents for 12 years now and I have owned a small art gallery in the building, Kansas City Stockyards Gallery, (formerly known as Vanessa Lacy Gallery) since 2017. This building allowed me to be a part of its community of artists and other small businesses and the gallery gave me the opportunity to sell my own artwork to support myself and to be a mentor to local college art students by providing internships. Outside of painting in my studio and running the gallery, I also participate in art fairs and Plein air painting competitions.
Earlier this year, I gained representation through the Leopold Gallery in KC's Brookside area. I was so pleased to hang my first commission through the Leopold at CrossFirst Bank in Leawood last month. And last week was thrilled to attend Leopold Gallery's 30th anniversary party. After running a gallery for several years myself, I can honestly say 30 years of elevating Kansas City artists on a national scale is quite the accomplishment! And I'm proud to be a new part of their team.
I'm excited to see what the future will bring as I grow as an artist. Recently I took a week long trip to Colorado to photograph the mountains. I'm busy now going through those photos to create a body of work celebrating the beauty and colors of Colorado in the fall, a nice change of pace from my usual painting subject matter of cityscapes featuring downtown Kansas City.
Would you say it's been a smooth road, and if not what are some of the biggest challenges you've faced along the way?
The biggest challenge in my youth was a lack of role models who were full time artists. In a small town, it was difficult to image a life where I could do what I loved for a living. But I loved my teachers and so I became an art teacher and did that until I found role models in Kansas City doing what I wanted to do and could create my own path to becoming an artist. It definitely wasn't fast or easy. I've spent close to 15 years collecting email addresses to add to my email newsletter to keep in touch with people who enjoy my artwork and enjoy my art gallery. I've had to deal with poverty as I kept prices low to build a collector base and slowly raise them each year over a decade. I think patience, faith, and determination have been my biggest assets when it comes to facing these challenges.
Later on in life, I have had to learn how to deal with burnout. I've found artist residencies and trips can bring inspiration and energy back into my work. I'm still learning how to stick to healthy habits and routines as a self employed artist, and as I reach out for help from coaches and mentors, friends and family, it becomes possible. Learning to lean on others and run the marathon not the sprint through every day is a challenge. Especially when you have more artwork in your mind you'd like to create than you have hours in the day or energy to create it. Learning to balance the business aspects of being an artist with making time to create art while also maintaining relationships with friends and family can be a challenge.
Can you tell our readers more about what you do and what you think sets you apart from others?
I'm most known for my colorful wet street scene paintings of Kansas City landmarks and street scenes. I love the sculptural quality of my paintings. I mix a cold wax medium into my oil paint that gives it the consistency of whipped frosting. I apply it thick, fluffy layers with a large palette knife to prepared panels that I build in my studio. Many of my paintings are 6 feet long and some are only 4 inches tall. They both have a very tangible feeling of the artist's hand because of the very physical act of spreading paint in such a dimensional way. I love to walk into a large room where one of my large cityscapes are hanging. From across a room the painting looks tightly rendered, easily recognizable as a KC street scene, and the colors are bright but serene. When you approach the paintings, really get your nose about 10 inches away from it, you no longer see an image of a cityscape, you just see blobs, smears, and glorious layers of colorful paint. I like for my paintings to really look and feel like paintings rather than photographs.
Another favorite thing about my work is hearing the stories of my collectors regarding what each painting means to them. One painting of a Kansas City fountain contains hundreds of stories, from the setting of a child making a wish with his young brother or where someone popped the question by writing it in pennies at the bottom of the fountain pool. Art is connection for me. I connect with myself and my Creator when I paint, and I connect with the world when I share my artwork with others.
Now that I'm about to make the announcement, that our next show at Kansas City Stockyards Gallery, our "Holiday Small Works Show" will be the last. After 4 years of painting and running and a gallery, I've decided to devote myself completely to painting. Just making enough work for the demand at the Leopold Gallery is more than enough to keep me busy!
The last show will open November 19th and will run through January 14th. After this show, I'm going to hang my hat as a gallery owner and close the gallery permanently. I love the Holiday Small Works Show. This is the 4th annual and it will be a nice way to say good bye to the little gallery space I've poured my heart into.
What matters most to you?
I want my artwork to bring happiness and peace to me while I'm making it and to others when they spend time with it when they bring my artwork into their homes and offices. I need the act of painting as much as some people need prayer or meditation or exercise. When my artwork is complete, I no longer get to spend time with it, it doesn't belong to me anymore. So I try to enjoy my time with it while I paint it as much as I can and I don't miss my paintings when they are gone. When someone adopts one of my paintings, it creates room for me to create a new painting. It's important to me that people enjoy the product of my creative time. So when I do a commissioned painting, its really more of a collaboration with the client telling me what they want in the painting and so I try my best to create a lovely mood and a scene that celebrates life and celebrates the world around us, usually Kansas City, our shared home.
Contact Info: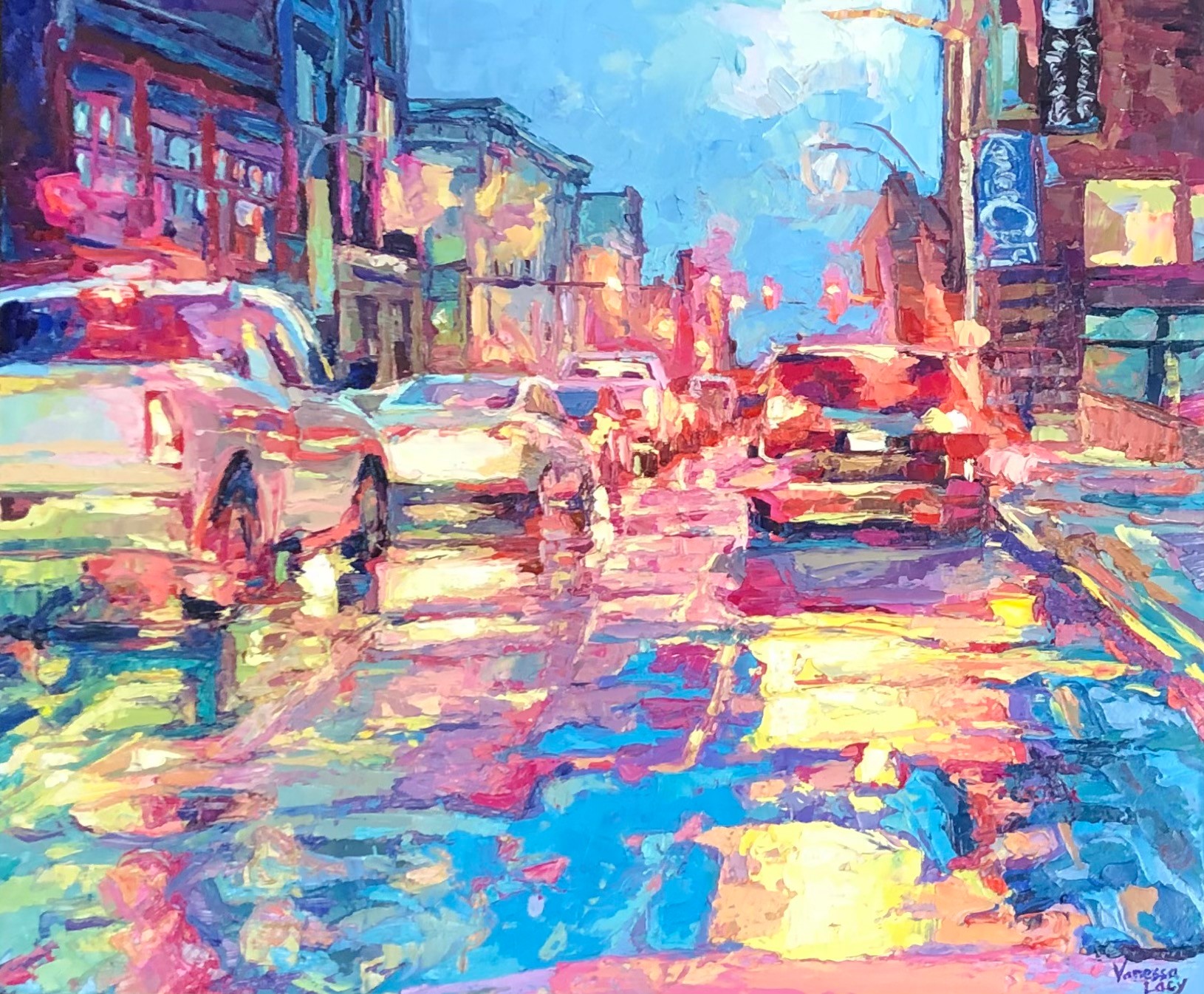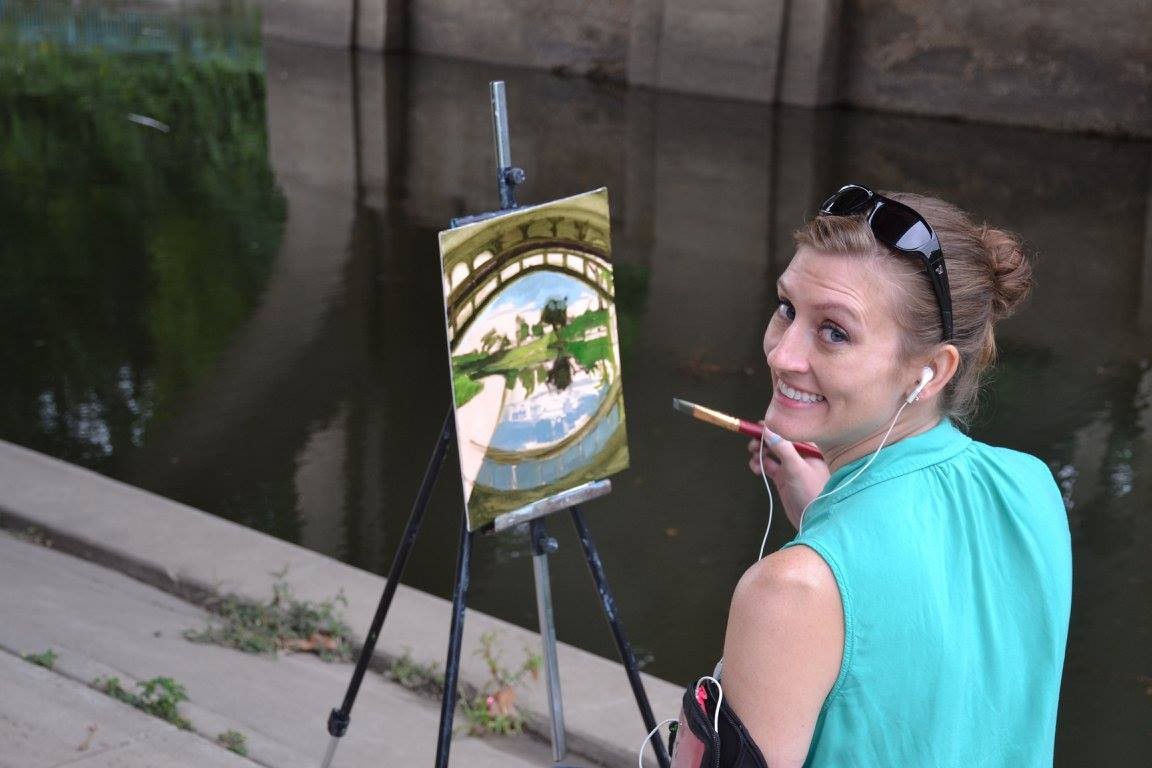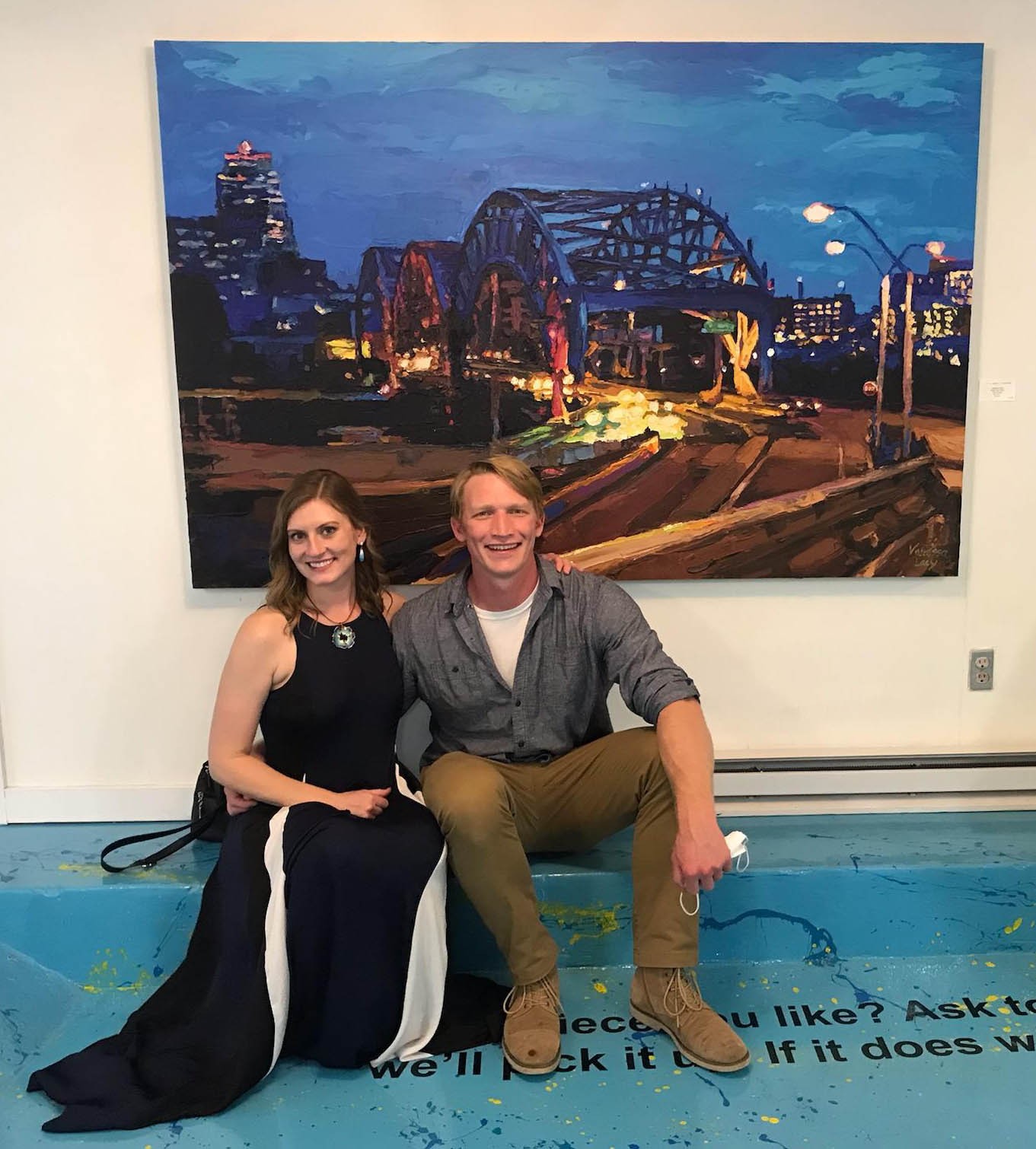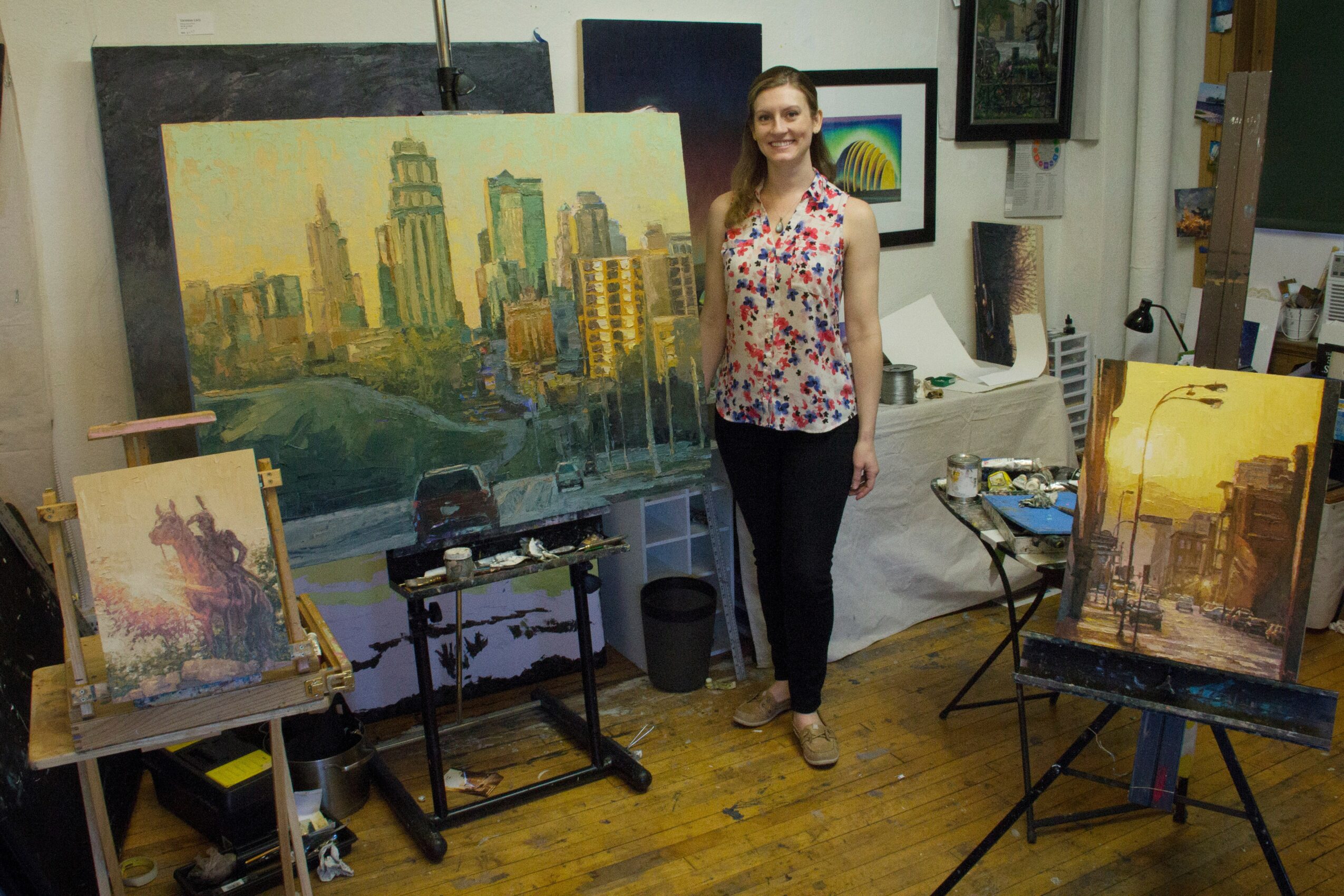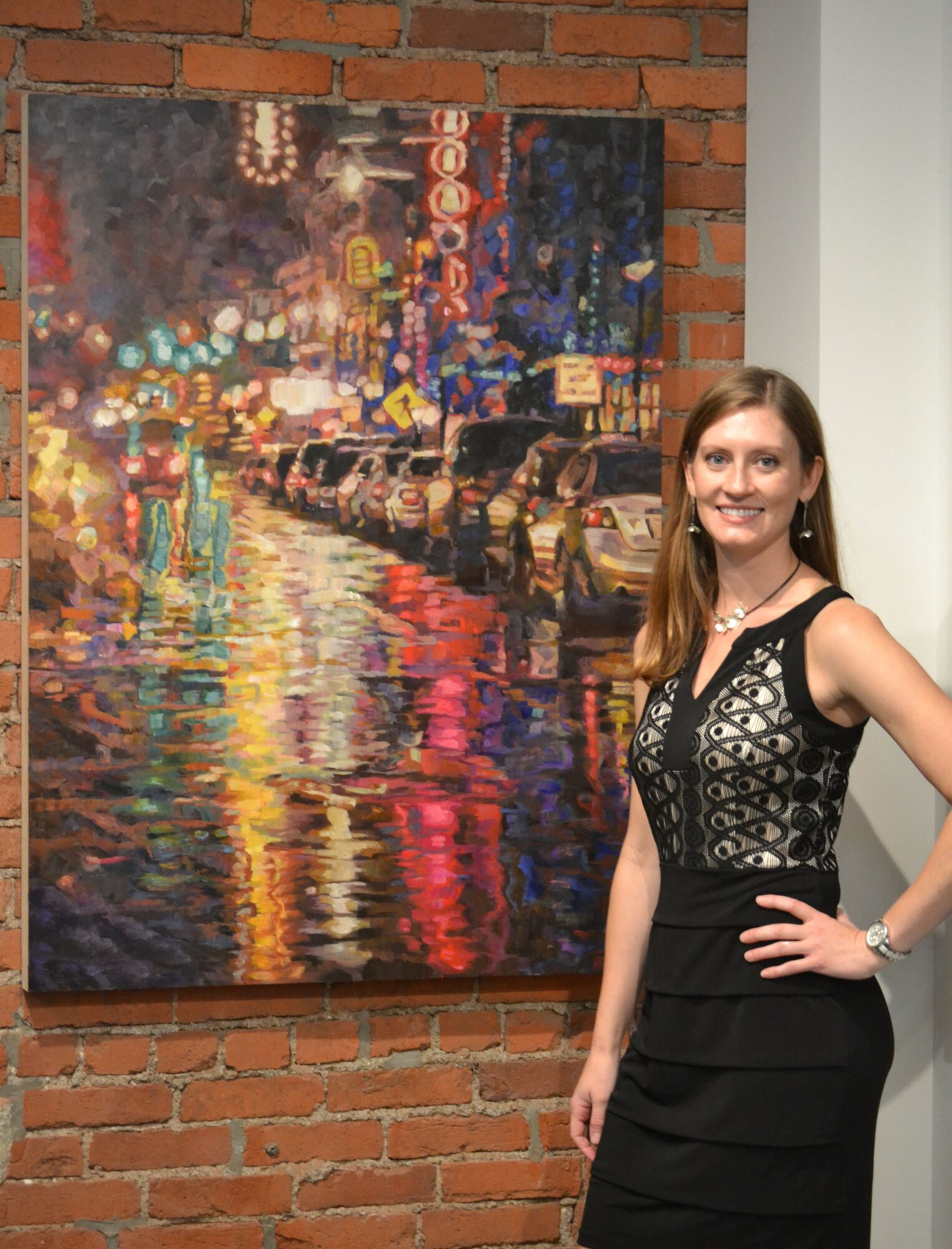 Suggest a Story:
 VoyageKC is built on recommendations from the community; it's how we uncover hidden gems, so if you or someone you know deserves recognition please let us know 
here.