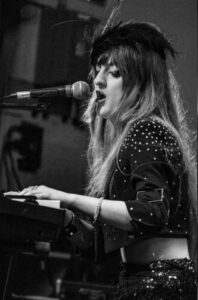 Today we'd like to introduce you to Julia Reynolds.
Hi Julia, we're thrilled to have a chance to learn your story today. So, before we get into specifics, maybe you can briefly walk us through how you got to where you are today?
Music has been a profound part of my life since the very start. There was no beginning point to that; it just seemed to begin where I began. I remember as a toddler, looking out the car window humming tunes- most of which were made up right then and there. That continued and evolved as I aged, and eventually, I was hearing entire orchestras in my head. Lyrics began flooding in as well. I had a lot I wanted to say, and it was only a matter of time.
At 6 years old, I began performing publicly by singing cover songs and hymns at my childhood church. I loved being on stage; sharing that ethereal feeling with the audience that music gives you. People liked what they felt as well, and what they heard apparently because opportunities started coming to me. I began doing some theater, singing at luncheons and charity events, became a part of the church choir, and the church praise band. That eventually led to me taking voice lessons at William Jewell at about 8 years old to expand my range and learn to protect my voice.
From that, I met one of the most influential people in my musical career, and life- Dr. Myers. I had been playing around on my mom's keyboard at home and had a dream of playing piano and singing. One fateful day, my mom met Myers out in the hall during a voice lesson and found out he was a piano teacher there. For the rest of my childhood and teenage years, he not only taught me piano and music theory, but he also inspired me in my songwriting, production, and taught me a lot of what I know about the music industry. As an adult, I still learn so much from him as he mentors me. He is a key part of my story, and is definitely a part of my soul family!
As I became more and more experienced in performing, I started living out my childhood dream of playing piano and singing my own songs. I also started picking up some other instruments including, guitar, erhu, drums, bass guitar, mandolin, accordion, and anything else I could get my hands on! I started performing in more and more places; finding myself on some super neat stages in front of and with some very incredible people. One thing would lead to another, and the next thing I know I'm 14 years old performing at the Santa Caligon opening for Julia Othmer. She has also been a huge inspiration and influence in my life and career; I was extremely honored to join her on stage as a guest back in 2019 in one of her shows.
Also in 2019, I bought an old MacBook Pro off the Facebook swap page and discovered GarageBand. I had messed with production before, but only on a tablet and with a very limited DAW. I wanted to complete my songs- to be able to add the other instruments and effects I already heard in my head for them- Though I had no way of doing that before. GarageBand was the perfect beginning to that, and about a year later, my old MacBook Pro was upgraded to a new one, and GarageBand was upgraded to Logic Pro X. Both of which is what I use today.
Though there have been so many beauties and wonderful experiences in my life, it hasn't been all sunshine and roses of course. I was always the odd man out when it came to my peers and even some authority figures at social groups and events. Being eccentric, homeschooled, and just "different", I did get bullied, even by many of my so-called "friends". That led to a lot of loneliness and a problematic self-image, worsened by my anxiety and depression disorders- which I was born with. (My upcoming song "Crowded Room" speaks a lot of this.)
But through the support of my parents, my real friends, soul family, my therapist, and the Divine/God. I've been able to keep going and keep evolving into my best authentic life. And that support is something I am infinitely grateful for.
So where to next? I will be releasing two albums later this year- one being "Queen of Crazy", which is a kind of EDM, alternative, pop, rock hybrid thingy, and the second being "Lemon Tree", which is a very intimate alternative folk album I've been honored to create with the talented songwriter/instrumentalist, and amazing friend, Michael Johnson. I am so excited to share them with the world! So, that's me. It's been a wild ride, and I can't wait to see where else this crazy thing called life leads me.
Thank you for reading, and I wish you the best in your life and your dreams.
Alright, so let's dig a little deeper into the story – has it been an easy path overall and if not, what were the challenges you've had to overcome?
As all great things do, my music journey and life have had their ups and downs for sure.
In my early music career, my age was a struggle. Being so young, I was often not taken seriously, at least until they heard me sing. I got a lot of judgment from many who were supposed to be "close".
And of course, I've gotten the typical "music's not a real job" kind of comments, along with some much meaner ones. But luckily that didn't stop me. It broke me down at first, but then it ended up making me want to succeed even more. Karma!
Depression and anxiety have most definitely been a huge struggle. They almost ended me a few times, to be honest.
I have always had both- they are biological for me.
What has been just as hard as the conditions themselves though, has been the stigma surrounding them.
Especially as a young child, that hit hard. I felt like something was wrong with me, and not that something was just physically wrong with my brain.
Luckily, not that this wasn't a hard journey either, I found my therapist, and after a couple of tries, my doctor found the right meds for me. I can say with no doubt that they saved my life.
And as I mentioned before, being the odd man out has had its hardships as well.
It made me feel as if something was wrong with me, and it took me a long time to realize that that wasn't the case.
In reality, being the odd man out doesn't necessarily mean there's something wrong with you. Honestly, it usually seems to mean you're on the right path for yourself.
I wasn't hurting anyone (other than then their narrow minds haha) so other than that, who cares if I'm different? I'm glad I know that now.
Along with that, criticism with not-so-great intent has been really tough for me to deal with through the years and still is. For a lot of my life I've been a people pleaser, so trying to grow out of that and do what I need to do has been a rocky journey. But I've realized there's a difference between being selfish, and taking care of the self. I gotta do what I gotta do! And that was a vital lesson to learn that I must remind myself of constantly.
My upcoming song 'No Exceptions' has a lot to do with this:
"What gives you the right to say someone else is wrong when they ain't hurting anyone; they're just different than what you want."
Self-consciousness has been rough, as it is for many. It still is for me today, though I'm a lot better at combating it nowadays than I used to be.
A lot of it has been tied to all the obstacles I just mentioned, and also just not loving myself and knowing my worth enough.
My goal nowadays is to be authentic as I can and live in pure love, balance, health, and flow. Follow that tug in my heart that never leads me astray. And spread that to others! We all deserve to know our worth, be authentic, be free, and live in harmony and love.
A lot, if not all of this shows up in my music and art. If when life gives you lemons you make lemonade, my songs are definitely my lemonade from all those dang life lemons. I hope I can connect with others through that, because others sure have with me, and it's helped more than I can express.
Thanks for sharing that. So, maybe next you can tell us a bit more about your work?
I am a Kansas City-based singer/songwriter, multi-instrumentalist, self producer, model, and artist.
My main instrument is piano, but I also play guitar, bass guitar, erhu, mandolin, accordion, Irish bouzouki, drums, pan flute, and basically anything else I can get my hands on. (Though a weakness for me is definitely anything brass, I'd love to learn someday!)
And of course, I sing.
Style-wise, I'll perform just about anything because I love just about everything. But currently, I have been mostly drawn to EDM, Alternative, Rock, Pop, and Folk.
I write most of what I perform, and I produce probably a little over half of it currently.
I love modeling, fashion, and makeup! I've modeled for a few different things, two recent ones being jewelry advertisement and artist reference.
Fashion is very important to me and my shows and image. I always incorporate unique styles into my art, often with symbolic meaning involved.
On the side, I love to fiddle with photography, sketching, painting, making zen gardens, etc.
I also do some fun vlogs and random videos on YouTube and Tiktok. I love trying new things and interacting with my viewers!
I love art so much and I love to express myself in lots of different ways!
What does success mean to you?
I define success as living in authenticity, balance, connection, and love. Love in yourself, others, and the universe as a whole. Following your dreams and being living in gratitude.
Contact Info: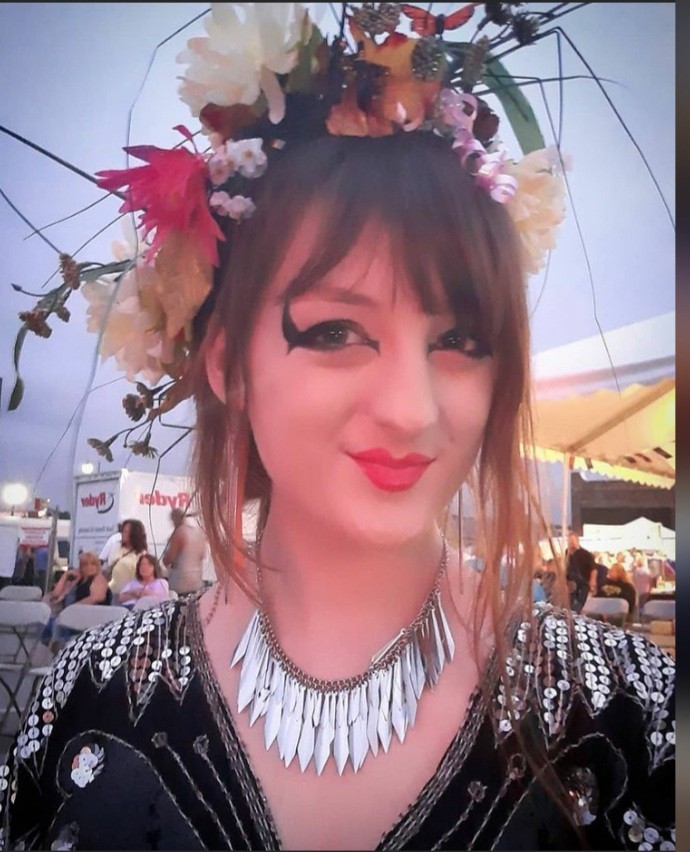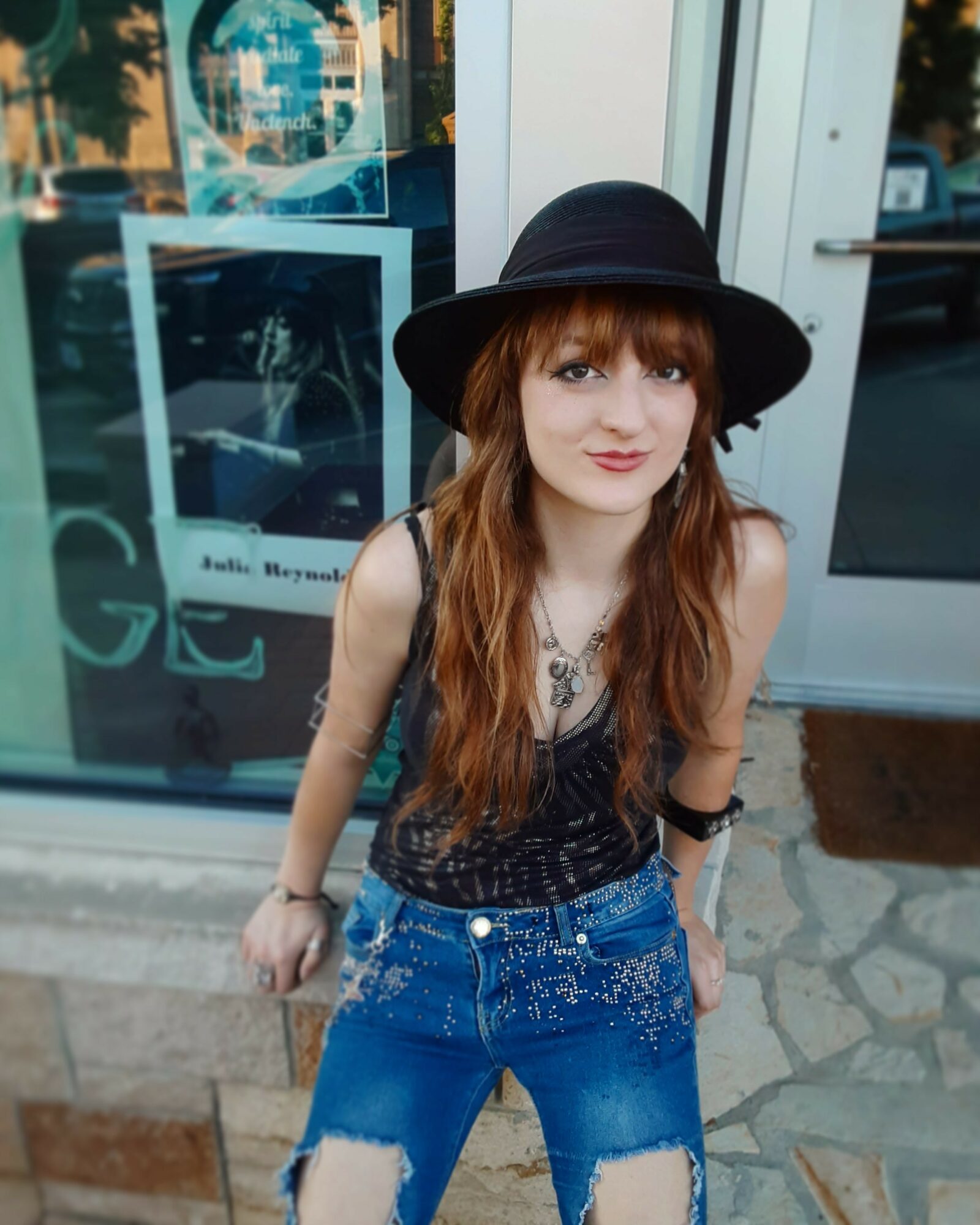 Image Credits
Ian Noah
Jeni Reynolds
Suggest a Story:
 VoyageKC is built on recommendations from the community; it's how we uncover hidden gems, so if you or someone you know deserves recognition please let us know 
here.